3 Core Moves to Improve Your Running Form
Mar 29, 2018
Hip/Glute Bridges
Focus: Hip stability and mobility, core stability, activate and strengthen gluteal muscles
Lie supine (on your back) with the feet flat on the floor and the knees hip-width apart.
Brace your abdominals (as if you were preparing to be punched in the stomach), and lift your hips upward as you squeeze the glutes. Avoid excessively arching your low back.
Return to the starting position and repeat.
Progressions: Single leg, banded, stability ball (lie supine on ball or feet on ball), or marching glute bridge
Side Plank
Focus: Core stability and endurance, and hip stability
Begin by lying on your side, with elbows positioned underneath the shoulders.
Lift your hips and stack or stagger your feet.
Brace the abdominals and squeeze the glutes.
Keep your head in line with the shoulders, and eyes focused straight ahead. Hold and repeat on the other side.
Progressions: Hip lift or extend top leg
Regression: Knees bent
Triplanar Toe Taps
Focus: Hip stability and strengthen the glutes
Begin with feet hip-width apart.
Balance on one leg. With the extended leg, tap your toes, to the front, side and diagonally behind you, while slightly bending the knee on the standing leg.
Repeat on the other side.
Progression: Banded, or on BOSU
Regression: Stand next to a chair or a wall to hold onto for support.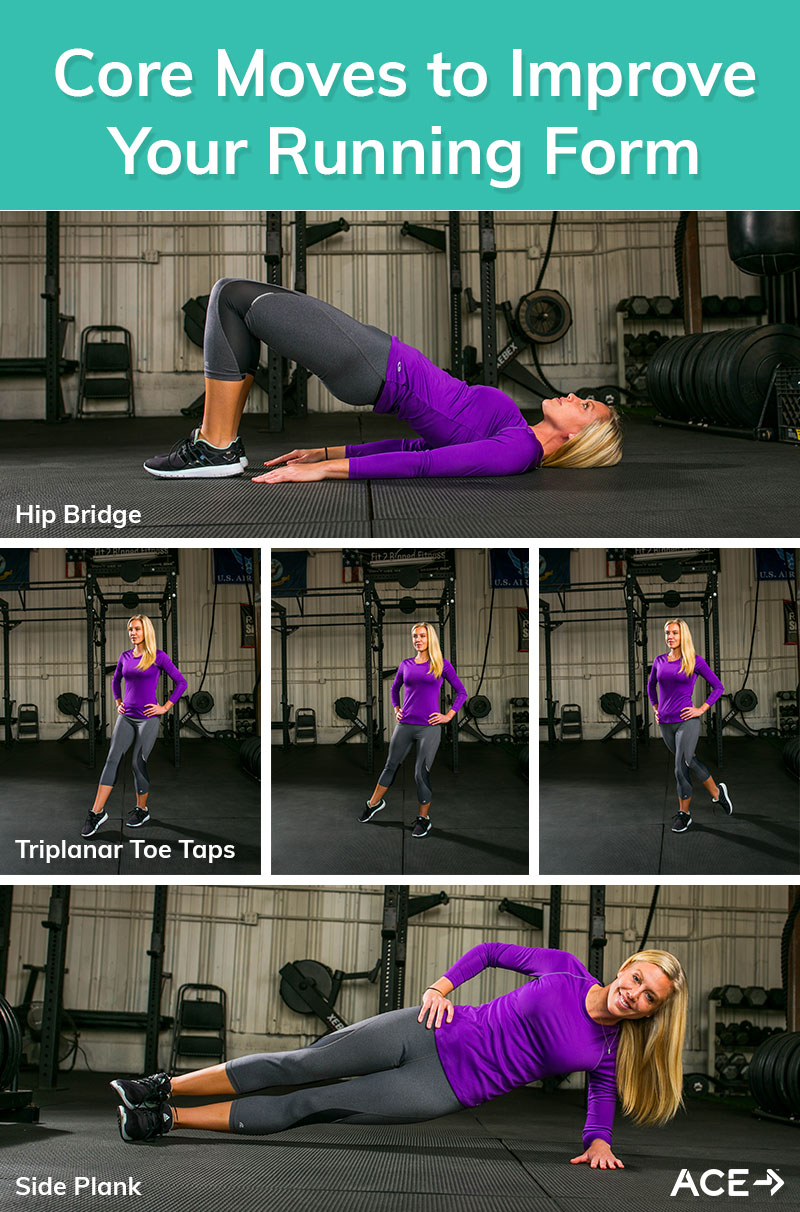 Learn more about training runners with our Running Continuing Education courses.