your customized workout. wherever you are. all virtual.
LIVE virtual PERSONAL TRAINER in the comfort of your own space.
CUSTOMIZED WORKOUT programs to fit your needs and goals.
No equipment needed - we'll help you USE WHAT YOU HAVE.
EASY-TO-USE TECH all you need is a computer, tablet, or phone.
stay on track with your goals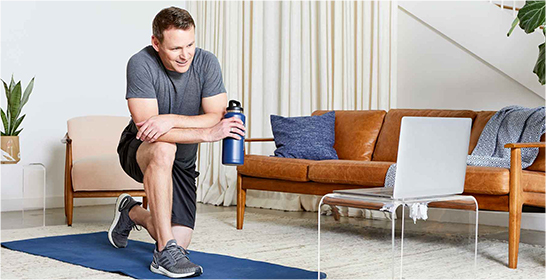 We know that your health, time and well-being are important - we have a personalized approach that will meet you wherever you are: at home or on the go. Whether you're on a business trip, family vacation, or life adventure, fit your workout in easily and on your time.
All you need is a computer, tablet, or phone...and your personal trainer will take care of the rest!

meet virtually for your signature
FIT EVALUATION

complete a virtual fitness assessment to set the
BASELINE & CREATE GOALS

get started by continuing your training
VIRTUALLY OR IN-STUDIO
WHAT CLIENTS ARE SAYING...
I love working with my personal trainers . They keep me motivated and encourage me to challenge myself. It is so important that you have the proper form when you are lifting weights and l know that my Personal Trainers are watching me and they make sure l am performing the exercise in correct form to prevent any injuries. At Fitness Together Burlington l am Positive that my trainor's care about me and they always have my back. Very happy and satisfied client, Nancy Koen of Burlington, MA

I love the personal touch and how your trainers get to know their clients. The cleanliness and how everything is sanitized and how safe I feel coming to the studio. The friendliness of all the staff.

challenging routines, trainers who connect

I enjoyed that I got to try different trainers which enabled me to listen to different advise/suggestions and adjustments as I worked out. Each trainer took the time to review my chart for any injuries, checked with me at the beginning of each session and made adjustments accordingly. All the trainers were professional, timely, and seem to enjoy what they do which makes a big difference on the receiving end of the training.