your customized workout. wherever you are. all virtual.
LIVE virtual PERSONAL TRAINER in the comfort of your own space.
CUSTOMIZED WORKOUT programs to fit your needs and goals.
No equipment needed - we'll help you USE WHAT YOU HAVE.
EASY-TO-USE TECH all you need is a computer, tablet, or phone.
stay on track with your goals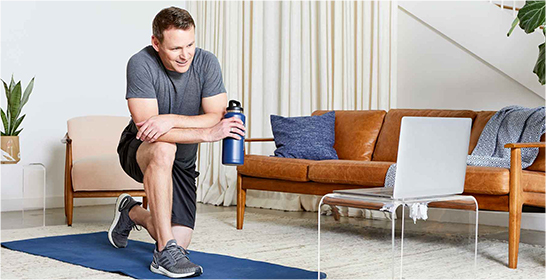 We know that your health, time and well-being are important - we have a personalized approach that will meet you wherever you are: at home or on the go. Whether you're on a business trip, family vacation, or life adventure, fit your workout in easily and on your time.
All you need is a computer, tablet, or phone...and your personal trainer will take care of the rest!

meet virtually for your signature
FIT EVALUATION

complete a virtual fitness assessment to set the
BASELINE & CREATE GOALS

get started by continuing your training
VIRTUALLY OR IN-STUDIO
WHAT CLIENTS ARE SAYING...
you know all the ads about having sufficient income for retirement? Calculators help us to determine what amount of money (spoiler alert, I suspect there's never enough) we need to prepare for retirement. A better question might be - how fit do we need to be to retire? Every glute bridge, deadbug, squat, birddog, tree pose and time with TRX helps us to shore up muscles, strength, balance and flexibility for retirement preparing us to #agestrong #fitnessallages #fitnesssecurity #FitnessTogetherBurlington helps us to prepare for a resilient retirement.

Consistency in the trainers approach. A continuous personalized exercise and nutrition program.

The one on one so my workout is for me and my body and goals

I love the personal touch and how awesome the whole staff is. I also love how dedicated to health and safety you have been through all of this pandemic. Also the ability to train remotely when needed is a great service.