personal training in private suites
PRIVATE WORKOUT SUITE no crowds - just you and your trainer.
CUSTOMIZED WORKOUT programs to fit your needs and goals.
FULLY-EQUIPPED studio suite - no waiting for equipment and no distractions.
Be part of a COMMUNITY that will support you through your journey.
stay on track with your goals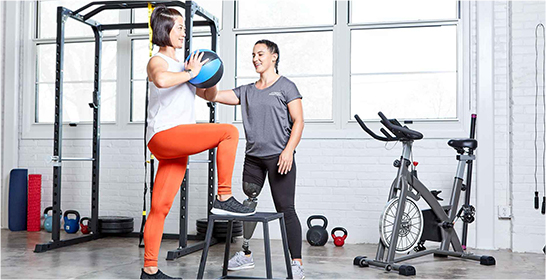 You will feel welcome and comfortable the minute you walk through our doors. Our studios are comprised of a small number of individual fully- equipped private workout suites so you and your personal trainer can devote all attention and energy to your workout.
Can't always make it in, but want to to stay on track with your goals? Check out our LIVE 1-on-1 Virtual Training.


initial assessment to set the
BASELINE & CREATE GOALS

get started in one of our in-studio
PRIVATE WORKOUT SUITES
WHAT CLIENTS ARE SAYING...
I AM THRILLED TO BE ABLE TO DO TRAINING AT HOME. MY TRAINER IS GREAT - SMART ATTENTIVE SKILLED AND KIND. I HIGHLY RECOMMEND HIM. I TIHNK BEING ABLE TO TRAIN AT HOME SIGNIFICANTLY CONTRIBUTES TO KEEPING ME SANE DURING THIS STRESSFUL TIME. THANK YOU FITNESS TOGETHER AND JOHN SCHMIDT.

Consistency, good attitude, helpful, flexible.

Very responsive and flexible accommodating clients' needs. Engaged, fun trainers. Great location/ parking. Never crowded. Responsible attitude about adhering to Covid protocol. Only downside is somewhat claustrophobic basement environment. There are so many empty storefronts in the area - would love to see FT in one of them!

Great Trainer - very skilled and very flexible and kind as well. I Miss working out in the studio but I find that I am able to keep my energy and my interest up with work outs on zoom. It is a good alternative but I do look forward to when I can return to the studio. The team is very flexible and innovative so that the home based work out is engaging and I can still work up a good sweat. Thank you John!