Whole30 Buffalo Chicken Salad From Maria Makes
Apr 16, 2020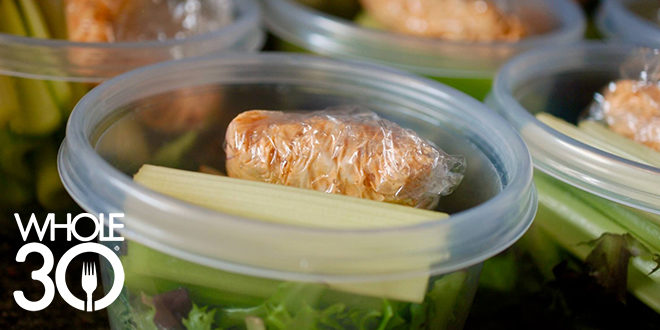 Grab-and-go Whole30 Buffalo Chicken Salad from Maria Makes

Ingredients
4 cups cooked and chopped/shredded chicken breast
2-3 stalks celery, finely chopped
1/2 red onion, finely chopped
1/3 – 1/2 cup Frank's Red Hot (to taste)
1/2 cup Whole30 Approved or compliant mayo (We like Primal Kitchens mayo, or you can make your own)
To Pack for Lunch:
Plastic wrap
Washed and dried greens
Carrot and celery sticks
Instructions
COMBINE shredded chicken with celery and onions in a medium bowl. Mix in mayonnaise and hot sauce, adjusting as desired for consistency and taste.
PACK for lunch by laying out on the counter-top 8 squares of plastic wrap. Divide the chicken salad mixture evenly among the 8 squares, placing a scoop of chicken salad directly in the middle of the square. This recipe should yield about eight 1/2 cup scoops of chicken salad.
FOLD in the corners of each square of plastic wrap to form a tightly-wrapped bundle of chicken salad.
IN reusable food containers, portion out 2 cups of greens. Add carrot and celery sticks, and one chicken-salad bundle. Place the lid on the container and store in the refrigerator for grab-and-go lunches.
More details can be found here: https://whole30.com/grab-and-go-whole30-buffalo-chicken-salad-from-maria-makes/