Healthier Cookie Recipes—All the Flavor Without All the Guilt
Dec 21, 2016
Gluten-free Chocolate Chip Christmas Cookies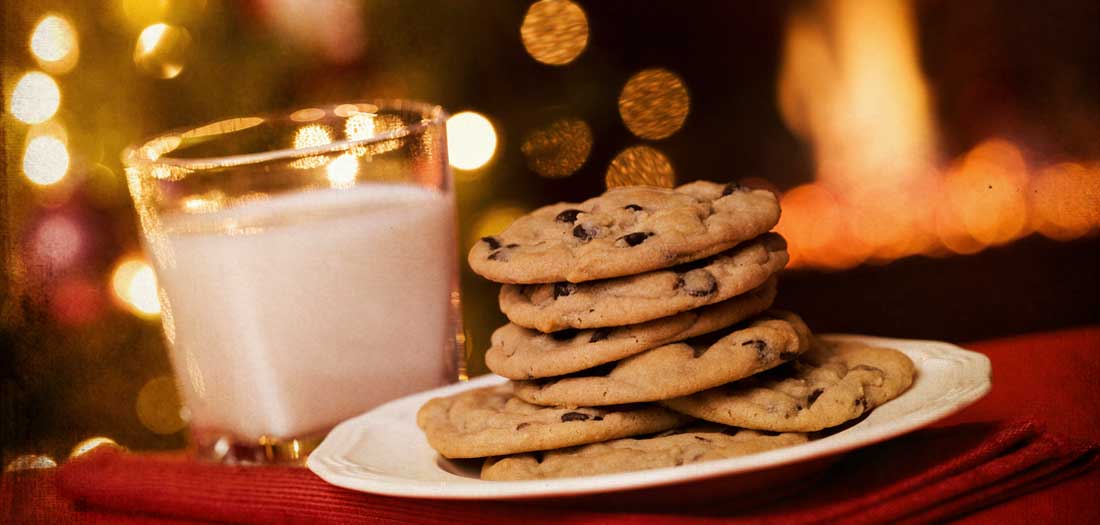 At just 104 calories, each bite of these cookies is chocolatey and decadent. They also boast a higher protein content, thanks to the almond and quinoa flours, which also make them ideal for all of your gluten-free guests. They're naturally sweetened and moistened by polyphenol-rich applesauce so there's less added sugar, and there's not even a smidgen of calorie-laden, artery-clogging butter.
Makes 18 Cookies (a little smaller than 3 inches in diameter)
Ingredients
1 cup almond flour
½ cup quinoa flour
¼ cup brown sugar
1 tsp. salt
½ tsp. baking soda
2 eggs
½ cup applesauce
½ tsp. vanilla
½ cup chocolate chips
Directions
1. Preheat oven to 350 degrees.
2. In a large mixing bowl, mix together the dry ingredients—almond flour, quinoa flour, brown sugar, salt and baking powder.
3. In a smaller mixing bowl, mix together the wet ingredients—eggs, applesauce and vanilla.
4. Pour the wet ingredients into the dry ingredient mixture and thoroughly stir.
5. Add the chocolate chunks to the dough and mix.
6. Lightly spray a baking sheet.
7. Using a spoon, place the cookie dough on the baking sheet. The cookie dough should be about 1.5 inches in diameter.
8. Bake for 10 minutes. When the time is up, put a toothpick through the middle of a cookie and make sure no residue appears. This will confirm that the cookies are done.
9. Let the cookies cool on a cooling rack or baking sheet for at least five minutes.
Nutritional Facts (per cookie): 104 Calories, 6 g Fat, 12 g Carbohydrates, 7 g Sugar, 110 mg Sodium, 1 g Fiber, 3 g Protein, 20 mg Cholesterol
Skinny Snickerdoodles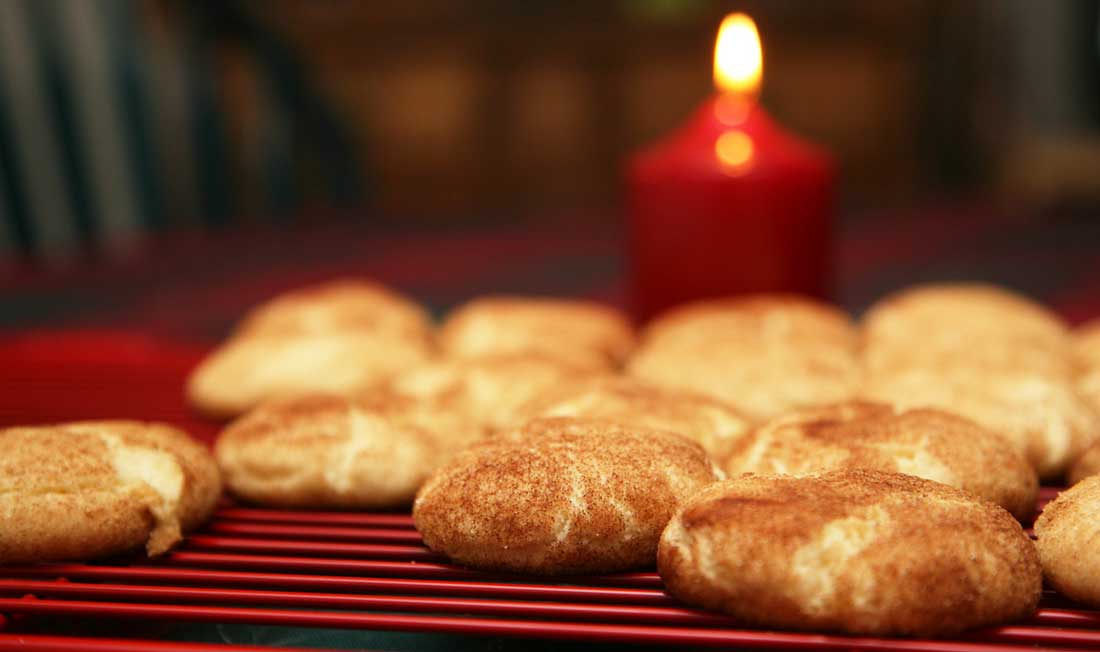 At just 85 calories each, this traditional cookie is revamped with coconut sugar and coconut milk and is sure to please everyone. Nibble on these Snickerdoodles and you'll reap the added health benefits (along with the flavor) of cinnamon, which may help to stabilize blood sugar and prevent diabetes. Plus, you can freeze them and take them out one at a time to keep your portions in check.
Makes 12 cookies
Ingredients
3/4 cup oat flour
1/4 tsp. baking powder
1/4 tsp. cream of tarter
1/4 tsp. baking soda
1/8 tsp. salt
1/4 cup coconut sugar
1/4 tsp. cinnamon
1/2 tsp. vanilla extract
1/4 tsp. almond extract (optional)
2 Tbsp. unsweetened plain coconut milk
1/4 cup coconut oil, melted
Additional 1 Tbsp. of coconut sugar and 2 tsp. cinnamon: combine in a separate bowl
Directions
1. Whisk together the dry ingredients (the first seven ingredients) in a large bowl.
2. Pour in the vanilla and almond extracts, coconut milk and melted coconut oil. Stir until combined.
3. Scoop out about two tablespoons of dough at a time, roll into balls (12 in all) and then coat with the cinnamon sugar mixture that is in the separate bowl.
4. Place the balls on a baking sheet lined with parchment paper and refrigerate for one to two hours to prevent the cookies from over-flattening while they bake.
5. When cookies have just about 15 minutes left to chill in the refrigerator, preheat the oven to 350 degrees.
6. Remove the tray from the refrigerator and bake the cookies for 10-12 minutes. Let cool 10 minutes on the tray and then transfer to a cooling rack. Enjoy the cookies warm or at room temperature.
Nutrition Facts (per cookie): 85 Calories, 5 g Fat, 4 g Saturated Fat, 0 mg Cholesterol, 51 mg Sodium, 9 g Carbohydrate, 1 g Fiber, 4 g Sugar, 1 g Protein
5-ingredient, Mix, Make and Bake Peanut Butter Chocolate Chip Cookies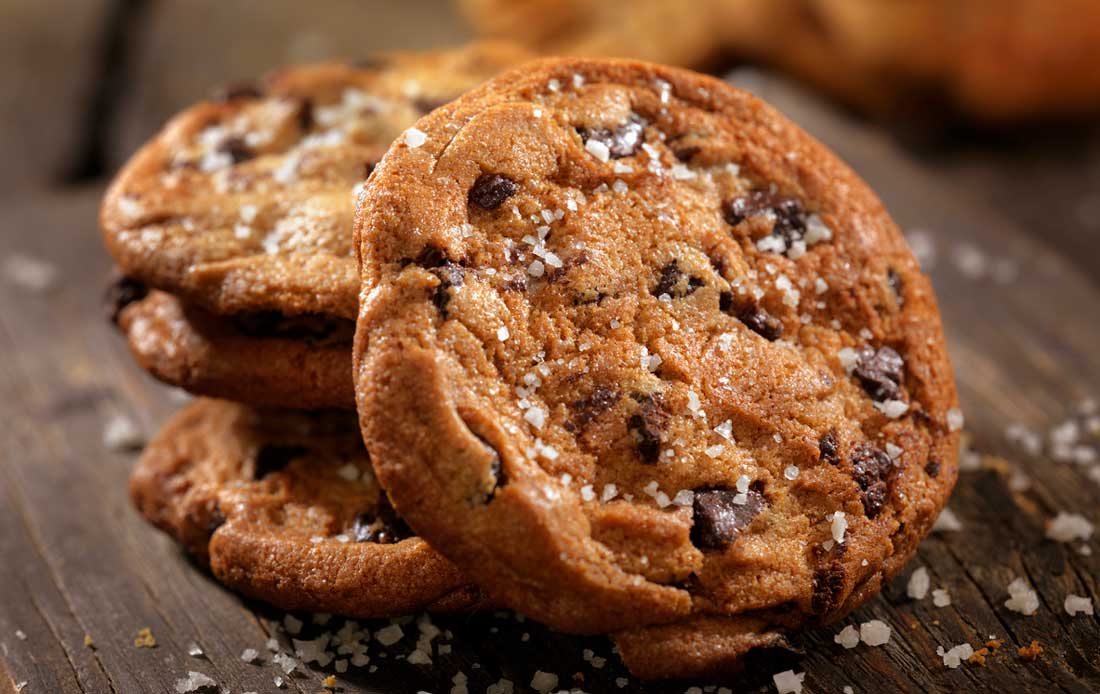 If you're in need of a quick, easy-to-make, healthy sweet-tooth fix that won't break the calorie bank, these 89-calorie cookies featuring ingredients you probably have on hand won't disappoint! With a combination of banana, oats and peanut butter, you can have a warm, delicious cookie in moments that is dairy-free and sans all the sugar you'd find in a typical cookie.
Makes 4 small cookies or 1 large cookie
Ingredients
1 very ripe banana, mashed
1/2 Tbsp. unsweetened vanilla almond milk
3 Tbsp. rolled oats
1 Tbsp. peanut butter
1-1/2 tablespoons chocolate chips
Directions
1. If using an oven rather than microwave, preheat to 375 degrees.
2. In a medium-sized bowl, combine banana, almond milk and peanut butter, stirring until thoroughly combined. Stir in chocolate chips.
3. If using a microwave: For one large cookie, spread mixture in bowl and microwave on high for 4-1/2 minutes. If you are making four cookies spray a plate, 4 small bowls or 4 ramekins with cooking spray. (The ramekins are nice to keep the cookies contained and perfectly round.)
4. Scoop out about 2-1/2 tablespoons each and flatten on the plate or in a ramekin. Repeat for each ramekin.
5. Microwave the four ramekins or the one plate on high for 4 minutes. Depending on the strength of your microwave, cooking time may vary. Use a toothpick or a fork and poke the cookie the whole way through. *If wetness comes off on fork or toothpick, continue to microwave in 30-second increments until cooked.
If making one big cookie, place the plate in the fridge or freezer to help the cookie solidify for a minute after cooking.*If using an oven: Place 2-1/2 Tbsp. of
*If using an oven: Place 2-1/2 Tbsp. of mixture on a greased baking sheet and bake for 10 minutes. Remove from oven when cooked completely through.
Nutrition Facts (per cookie): 89 Calories, 14 g carbohydrate, 4 g fat, 2 g protein, 25 mg sodium, 2 g fiber