Sean Stellmach

,

Owner/Fitness Coach

Years of Experience

Credentials

BS Community Health & Education
NASM-CPT

Sean Stellmach has owned Fitness Together Portsmouth for almost 10 years. He started out as a trainer at another studio, and quickly realized he wanted to own his own. Along with years of experience, Sean's passion for fitness and helping individuals improve their health motivates his team to be the best of the best.

in my free time I like to
Sean resides in Amesbury with his wife, Hannah, daughter, Sophia and pup, Mila. In his free time, Sean enjoys family time, camping, outdoor projects and traveling.

SCHEDULE YOUR COMPLIMENTARY FIT EVALUATION

Jesse Jacques

,

Fitness Coach/Nutrition

Years of Experience

Credentials

B.S. Kinesiology - UMaine Orono
NSCA CPT
Precision Nutrition Level 1 Cert
NASM Corrective Exercise Specialist
ISSA certified nutritionist
ISSA CPR/AED certified

Jesse was born and raised in central Maine. Although he played sports and had an interest in athletics his entire life, he originally planned to follow in the footsteps of his brother by becoming an engineer. After realizing what a powerful impact fitness had in his own life he quickly switched his studies from Engineering to Kinesiology and Business Administration with the intentions of becoming a Personal Trainer. He graduated from the University of Maine (go Blackbears) in 2019 and went on to become a NSCA certified Personal Trainer and an ISSA certified Nutritionist. Jesse joined the Fitness Together team in 2021. He believes that any individual has the power to make great change in their lives through fitness and that it is a fitness coach's job to make change simple and attainable.

Nick Pitts

,

Fitness Coach

Years of Experience

Credentials

B.S. in Recreation Management
ACE-CPT

Nick grew up in Greenland, NH and is a recent graduate at the University of New Hampshire. He became interested in fitness while running track and field at Portsmouth High School in 2012. After graduating, his passion for strength training carried on which drove him to pursue a career in fitness. Nick enjoys incorporating all styles of training into his workouts including powerlifting, bodybuilding, aerobics, calisthenics and circuit training. Nick Joined the Fitness Together team in 2021. His favorite part about being a trainer is seeing his clients progress and reach their goals. He also enjoys learning new exercises and techniques and sharing them with his clients.

Chris Henry

,

Fitness Coach

Years of Experience

Credentials

NASM CPT
B.A. Communications

Chris was born and raised in Stratham, NH, where his family still resides. Chris found himself living in Portsmouth after college with his girlfriend, Tori, who grew up in Portsmouth. Chris practiced resistance training since he was 16, and played various sports throughout his life. He graduated from Plymouth State in 2019 with a degree in Communications and a minor in Spanish; here, he also provided personal training for other students. His path led him to work for Liberty Mutual for 3+ years. After the reintroduction of personal training in his life (teaching Tori to practice resistance training), Chris decided to make the leap to make personal training his career. Fitness Together welcomed him with open arms and provided an environment where he could grow, provide knowledge to clients, and live a very happy life.

in my free time I like to
Chris loves to longobard the hills of Portsmouth, cozy up with a good book, snowboard in the winter, soak up the rays at the beach, and practice Jiu Jitsu.

SCHEDULE YOUR COMPLIMENTARY FIT EVALUATION

Derek Zhou

,

Fitness Coach

Years of Experience

Credentials

ACSM Certified Personal Trainer
EIM Credential Level 1
BS Kinesiology

Derek grew up in York, ME and graduated from at the University of Rhode Island with a Pre- Professional track in Kinesiology. This specialization prepared opportunities to analyze physical activity, exercise, and movement. Trained to assess, design, and implement exercise programs for apparent healthy individuals. This in turn lead to appropriate exercise prescriptions and motivate individuals to modify deconstructive health habits. Previous opportunities range from the workplaces of physical therapy clinics to assisted living. With Fitness Together, he looks forward to strengthening his experience and improve himself to help clients reach where they want to be. You have one body, might as well use it.

in my free time I like to
Spending time with friends and family. Taking care of over 30 tropical plants and watching them grow. Visiting national parks and catching up in the NBA.

SCHEDULE YOUR COMPLIMENTARY FIT EVALUATION

Becky Fearnley

,

Fitness Coach

Years of Experience

Credentials

NASM Personal Trainer
B.S. Health Promotion

Becky grew up in New Hampshire. After high school she moved to South Carolina for college. There, she ran Track and Field and got a degree in Health Promotion. It was in college where her passion for fitness grew. She took multiple weightlifting classes and learned quickly that she wanted to help people in their own fitness journeys. Her goal is to make people feel comfortable and confident in their ability to workout. She likes the 1 on 1 training style because it allows the trainer to be intentional with the client. She is excited to be a part of the Fitness Together team!

in my free time I like to
In her free time Becky enjoys mountain biking, skiing, and paddleboarding with her husband, Mike. She spends time with her family playing card games, board games and loves pizza! Her favorite movie is the Lord of the Rings which was the theme of her and Mikes wedding.

SCHEDULE YOUR COMPLIMENTARY FIT EVALUATION

Drew Dawkins

,

Fitness Coach

Years of Experience

Credentials

Bachelor's Degree in Exercise Science, University of Southern Maine

Drew grew up on the mean streets of Exeter, NH. He is a graduate of the University of Southern Maine, completing his degree in Exercise Science. During his internship at UNH Strength and Conditioning he worked with an assortment of teams requiring varying athletic needs. A lifelong curiosity with the complexity of the human body paired with this exposure to many different approaches to training helped to spark an interest in the whole of physical fitness. After completing his internship, Drew found his way into the physical therapy world at Proex PT in 2012. Proex would eventually become Professional PT and over the span of 10 years, he was able to work with many excellent physical therapists. Learning the "whys" of exercise when it comes to keeping the body moving brought a focus on functional strength training. Leaving there armed Drew with the idea that a well-designed mix of strength and balance training can allow an active lifestyle for any age. Drew is excited to work with all the FT clients and continue to learn new techniques to accomplish their specific goals.
here's how it works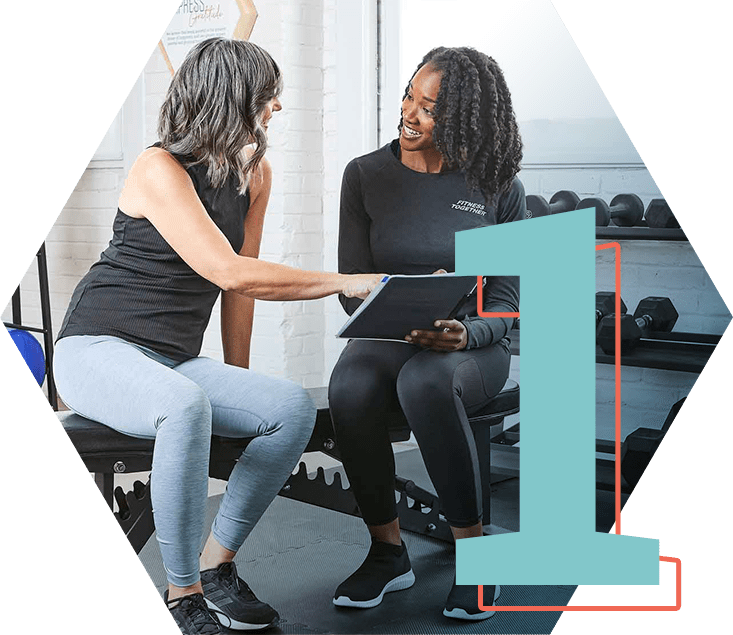 complimentary
signature fit evaluation
A complimentary signature process where we learn about your goals, health history, and take you through a mini workout so we have the information we need to begin building your customized program.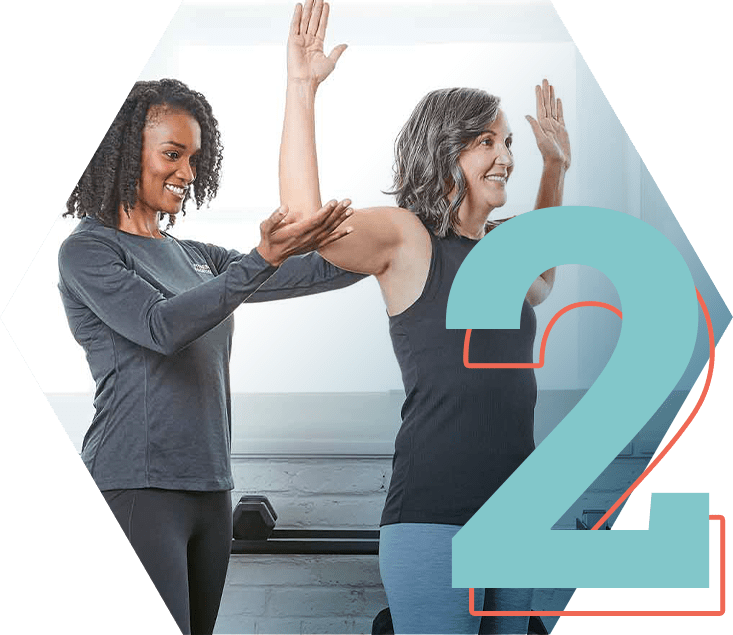 full body assessment
A comprehensive fitness assessment to collect baseline metrics that will help us track your progress.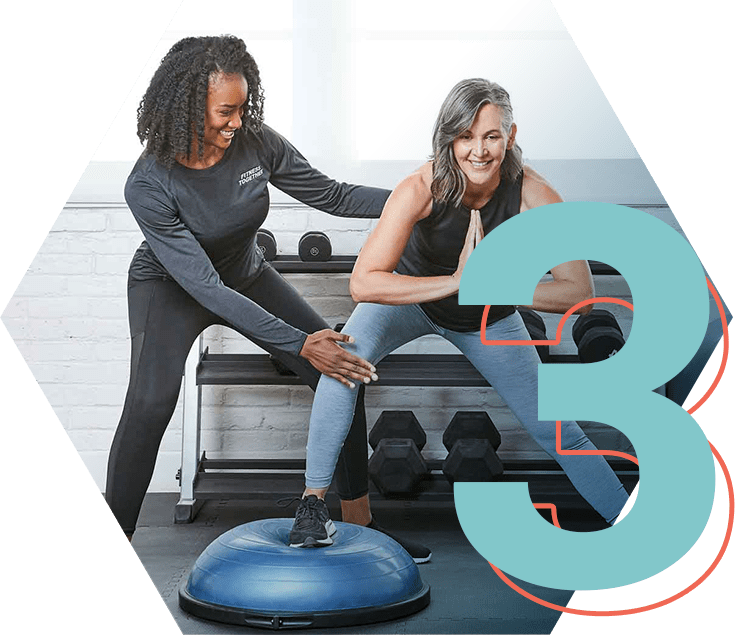 personal training session
Meet your trainer in your private suite (or virtually) for your 1:1 session to begin your completely customized workout program.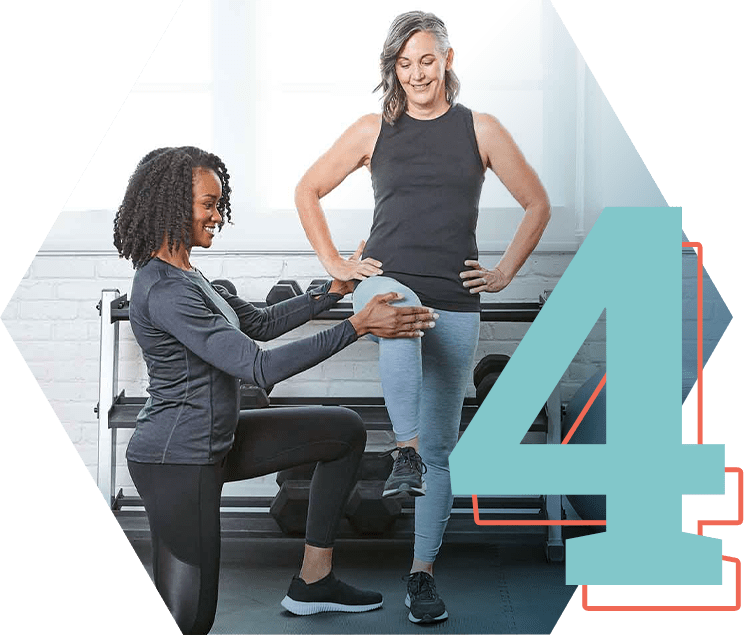 progress checks
A comprehensive assessment every 6 weeks so we can celebrate your progress and set new goals.
WHAT CLIENTS ARE SAYING...
I have been working out at FT for a couple of years and it has made a dramatic difference in my health. I no longer need hip surgery and I am able to dance and hike again.

The high quality training and nutrition advice at Fitness Together has helped me reach my fitness goals. I've lost 20 pounds and have a BMI of 22.8!

I started working out after having breast cancer and heading to osteoporosis. My primary goal with FT was to increase bone density. I now have normal bone density.

Friendly people who care about helping you achieve your goals. FT helped me prepare to hike the Appalachian Trail at age 65. If you have the will, FT will show you the way.