personal training in private suites
PRIVATE WORKOUT SUITE no crowds - just you and your trainer.
CUSTOMIZED WORKOUT programs to fit your needs and goals.
FULLY-EQUIPPED studio suite - no waiting for equipment and no distractions.
Be part of a COMMUNITY that will support you through your journey.
stay on track with your goals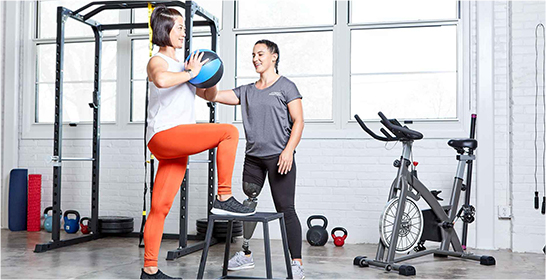 You will feel welcome and comfortable the minute you walk through our doors. Our studios are comprised of a small number of individual fully- equipped private workout suites so you and your personal trainer can devote all attention and energy to your workout.
Can't always make it in, but want to to stay on track with your goals? Check out our LIVE 1-on-1 Virtual Training.


initial assessment to set the
BASELINE & CREATE GOALS

get started in one of our in-studio
PRIVATE WORKOUT SUITES
WHAT CLIENTS ARE SAYING...
I have used Fitness Together for about 7-8 years. The previous owners got this 80 year body moving until I acquired Colon and Kung cancer. I did not workout for little over two years when the new owner purchased the studio. The renovations are very good and my personal trainers are excellent for me. They have improved my strength remarkedly over the past two months. They are a "Godsend" for me.

The owner and entire staff are friendly and knowledgeable and very flexible - which has been even more important during the pandemic.

Fitness Together is a community of people focused on the same goal. Trainers are excellent, clean and safe environment, flexible schedule.

After years of not working out or taking care of my physical self, I knew it was time to make an investment in myself. I knew this was not something I could do on my own. Having a fitness plan created for me, at my current level as well as to challenge me to the next levels, means I am getting the most out of each workout.