personal training in private suites
PRIVATE WORKOUT SUITE no crowds - just you and your trainer.
CUSTOMIZED WORKOUT programs to fit your needs and goals.
FULLY-EQUIPPED studio suite - no waiting for equipment and no distractions.
Be part of a COMMUNITY that will support you through your journey.
stay on track with your goals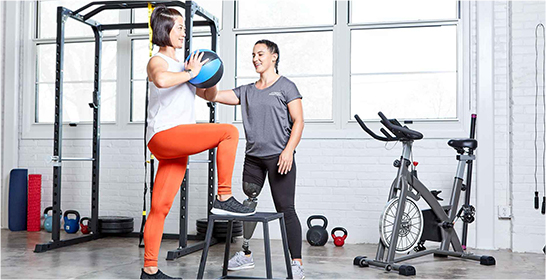 You will feel welcome and comfortable the minute you walk through our doors. Our studios are comprised of a small number of individual fully- equipped private workout suites so you and your personal trainer can devote all attention and energy to your workout.
Can't always make it in, but want to to stay on track with your goals? Check out our LIVE 1-on-1 Virtual Training.


initial assessment to set the
BASELINE & CREATE GOALS

get started in one of our in-studio
PRIVATE WORKOUT SUITES
WHAT CLIENTS ARE SAYING...
Very good trainer, decent scheduling options. Great to have this to look forward to, while now in 11th month of working from home

Owner-operated and workouts are very personally tailored. The more they become familiar with your abilities, the better it gets. Convenient location; FT makes every effort to accommodate my schedule, and trainer turnover is low. They remember what weight dumbbells I've used for specific exercises (so I don't have to!), and they adapt exercises when necessary. They are conscientious about Covid protocols for on-site clients and keep everything very clean. They also offer remote sessions for those who have chosen to exercise at home.

The 45 minute duration. Knowledgeable trainers.