personal training in private suites
PRIVATE WORKOUT SUITE no crowds - just you and your trainer.
CUSTOMIZED WORKOUT programs to fit your needs and goals.
FULLY-EQUIPPED studio suite - no waiting for equipment and no distractions.
Be part of a COMMUNITY that will support you through your journey.
stay on track with your goals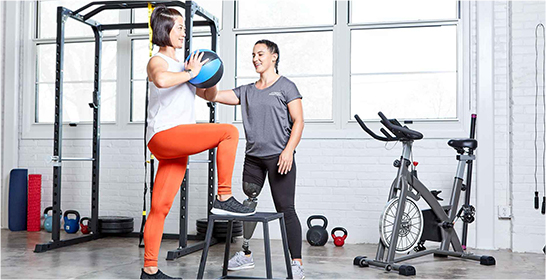 You will feel welcome and comfortable the minute you walk through our doors. Our studios are comprised of a small number of individual fully- equipped private workout suites so you and your personal trainer can devote all attention and energy to your workout.
Can't always make it in, but want to to stay on track with your goals? Check out our LIVE 1-on-1 Virtual Training.


initial assessment to set the
BASELINE & CREATE GOALS

get started in one of our in-studio
PRIVATE WORKOUT SUITES
WHAT CLIENTS ARE SAYING...
I like the customization. I never feel that I am doing a cookie cutter workout. My program is tailored just for me with my goals and fitness level and any past injuries in mind. As a woman past 60, safety is always a concern which is why I posted to spend the extra money to have the one on one training. As well, Fitness Together understands how to make your workout help you toward strength for activities of daily living. In my program, we do something to work on balance in every session because falls are a real concern after 60. We work on a lot of core strength activities because a strong core is essential to safe movement. I watch the FT people workout people with many different needs...adding muscle, losing weight, recovering from injury, getting in shape for the first time. I worked out this weekend with my 32 year old niece. We worked out side by side but our workouts were tailored for each of us. Her weights were heavier on the machines and she had extra exercises that I did not do. We each had great workouts but felt that our needs were definitely met and that we were both challenged. That's a 32 year old and a 66 year old. They truly know how to individualize your workout especially for you!! I highly recommend Fitness Together Johns Creek and Dunwoody for my family and friends. I care so much for them and would only endorse the best!!

The one on one training. Trainers who know what they are doing and correct you when your form or execution is wrong. Friendly. Fun Happy atmosphere

Great trainers who are very open to customizing the workouts to the clients specific needs and goals

Fitness Together has provided excellent training with noticeable results. They have been very accommodating with Zoom access during the period we couldn't meet in person. I love the consistency in trainers.