personal training in private suites
PRIVATE WORKOUT SUITE no crowds - just you and your trainer.
CUSTOMIZED WORKOUT programs to fit your needs and goals.
FULLY-EQUIPPED studio suite - no waiting for equipment and no distractions.
Be part of a COMMUNITY that will support you through your journey.
stay on track with your goals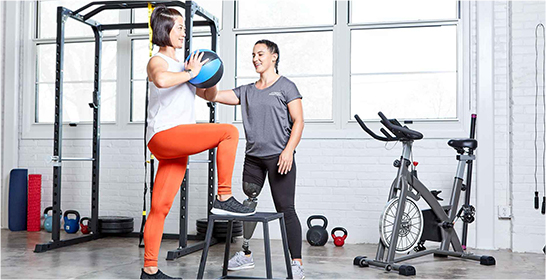 You will feel welcome and comfortable the minute you walk through our doors. Our studios are comprised of a small number of individual fully- equipped private workout suites so you and your personal trainer can devote all attention and energy to your workout.
Can't always make it in, but want to to stay on track with your goals? Check out our LIVE 1-on-1 Virtual Training.


initial assessment to set the
BASELINE & CREATE GOALS

get started in one of our in-studio
PRIVATE WORKOUT SUITES
WHAT CLIENTS ARE SAYING...
CRYSTAL! She's the best. So friendly, knows what she's doing and has kept all this afloat during a PANDEMIC!

Crystal is vibrant and wise! She has been able to meet me exactly where I am - physically and mentally. Her motivational style is very natural and she keeps it real. I highly recommend her training expertise. Crystal has taken extra precautions since COVID-19 and the studio has been great and comfortable to be in. I can't believe it took me so long to engage a personal trainer.

great trainers able to lead great workouts remotely!

Crystal is great to work with and super encouraging and listenings to your goals!