personal training in private suites
PRIVATE WORKOUT SUITE no crowds - just you and your trainer.
CUSTOMIZED WORKOUT programs to fit your needs and goals.
FULLY-EQUIPPED studio suite - no waiting for equipment and no distractions.
Be part of a COMMUNITY that will support you through your journey.
stay on track with your goals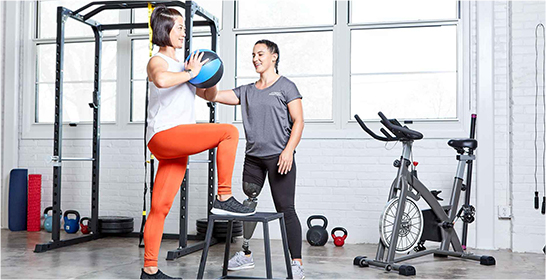 You will feel welcome and comfortable the minute you walk through our doors. Our studios are comprised of a small number of individual fully- equipped private workout suites so you and your personal trainer can devote all attention and energy to your workout.
Can't always make it in, but want to to stay on track with your goals? Check out our LIVE 1-on-1 Virtual Training.


initial assessment to set the
BASELINE & CREATE GOALS

get started in one of our in-studio
PRIVATE WORKOUT SUITES
WHAT CLIENTS ARE SAYING...
Every trainer I've worked with has been knowledgeable, sociable, accommodating, and encouraging. I don't always feel like working out, but I never regret it once I walk into this gym and get going. I am not a fitness junkie - I've been a collegiate athlete and still have anxiety about working out. But, training here is so fun, challenging, and impactful. I cannot and do not want to imagine going back to another gym or working out at home again.

Trainers are knowledgeable. The owners are customers satisfaction focused. The facility is always clean.

I am currently doing virtual training with Shanna and Sam. They are incredible, as always. I'm so impressed how FT has come up with complete and effective workouts using only what the client has at home. Thank you!

Everyone is client centric. They are encouraging and don't let you coast or skip and are not to pushy. They share ideas with eachother and the enduser. My wife has worked with them for over a decade and it works?