personal training in private suites
PRIVATE WORKOUT SUITE no crowds - just you and your trainer.
CUSTOMIZED WORKOUT programs to fit your needs and goals.
FULLY-EQUIPPED studio suite - no waiting for equipment and no distractions.
Be part of a COMMUNITY that will support you through your journey.
stay on track with your goals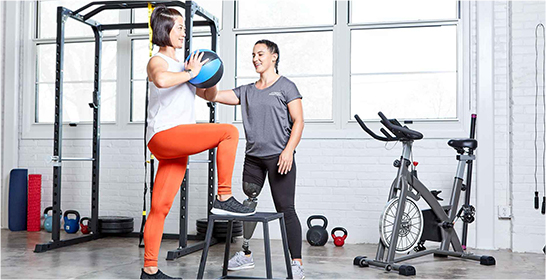 You will feel welcome and comfortable the minute you walk through our doors. Our studios are comprised of a small number of individual fully- equipped private workout suites so you and your personal trainer can devote all attention and energy to your workout.
Can't always make it in, but want to to stay on track with your goals? Check out our LIVE 1-on-1 Virtual Training.


initial assessment to set the
BASELINE & CREATE GOALS

get started in one of our in-studio
PRIVATE WORKOUT SUITES
WHAT CLIENTS ARE SAYING...
The Fitness Together team is incredible. I currently work with three different instructors weekly on both fitness and physical therapy/recovery and I love them all. They all communicate about the status of my sessions and ensure I'm getting the most out of each visit.

Fitness Together is the best. The entire team cares deeply about my fitness goals and my safety. They also provide the perfect balance of shaping my workouts/challenging me and also letting me add exercises I want.

Marcy and Fitness Together are synonymous. Her dedication to individualized training, custom workouts, unique skills, and passion for camaraderie are what differentiate FT from other studios. She consistently pays attention to details; while training clients and their experience in the studio. She goes above and beyond to greet each client by name, ask how they are doing, and ensure they feel welcome. Furthermore, each workout is different. Marcy is a continual learner, and brings best in class personal training techniques and tips to each session.

Expert trainers, clean and welcoming environment and programs custom designed to meet your needs.