Thomas Lavoie

,

Owner / Professional Personal Trainer

Years of Experience

Credentials

Bachelor of Science in Athletic Training
ATC
CSCS
FMS
Precision Nutrition Level 1
Red Cross First Aid & CPR L1

I am here to help you achieve your goals and have fun while you are doing it! I spent the early part of my professional career as an athletic trainer for high schools and various semi-pro sports teams. Since the year 2000 I have been working with clients one on one to achieve their fitness and life goals. I have extensive experience working with young children, elite athletes and the elderly achieve these goals. I have learned first hand what kind of impact fitness can have on your life, having lost over 70lbs of "baby fat" myself. From being able to run faster or jump higher, just get out of bed without pain in the morning, or increasing your overall health. I want you to feel comfortable with my experience and facility's intimate design.

Devin D'Ambrosio

,

Studio Manager / Professional Personal Trainer

Years of Experience

Credentials

Bachelor of Science in Exercise Physiology
YMCA Strength & Conditioning Instructor Certification

I graduated from UMASS Lowell as a Magna Cum Laude with a BS in Exercise Physiology. Post graduation, I worked for the YMCA as a Health Director. I also worked as a Fitness Manager in a big box gym. In both of these roles I had the pleasure of working with a large variety of ages and fitness levels. Because of the huge impact we can make as coaches, I'm especially passionate about working with individuals that are coming off of an injury, have different abilities and disabilities, or are new to fitness. I pride myself on teaching clients the tools necessary for getting control of their health again. I look forward to helping our clients on their fitness journey.

Suzanne Caruso

,

Nutrition Coordinator / Professional Personal Trainer

Years of Experience

Credentials

National Academy of Sports Medicine (NASM)
YogaFit
Precision Nutrition Level 1
Red Cross First Aid & CPR L1

People ask me how and why I "ended" up as a Fitness and Nutrition coach/yoga instructor. My response is always the same…. Due to severe low back injuries, if I don't have fitness in my life I would be in pain. After years of rehabilitating my own injuries and seeing how significantly my life had changed, I decided that I wanted to share with other people what I had learned. My extensive knowledge of anatomy and body mechanics allows me to help clients achieve their fitness goals regardless of any physical limitations. Staying physically fit is a passion of mine, which enables me to motivate others while keeping it fun.

David Donovan

,

Lead Professional Personal Trainer

Years of Experience

Credentials

Bachelor of Science in Exercise Science
CSCS
Red Cross First Aid & CPR L1

I went to school at the University of Southern Maine and received my BS in Exercise Science in 2017. I became a Certified Strength and Conditioning Specialist shortly after and began to revel in the idea that I could educate people in an industry with so much misinformation. My goal is to usher you through your health and wellness journey safely and with purpose.

in my free time I like to
Outside of work I am my best in nature. In the spring, summer, and fall, I like to hike the beautiful white mountains. In the winter I still find my peace in the mountains but with a snowboard instead of a backpack. More minorly, I spend some time golfing and rock climbing. Mostly, I spend my time cooking and playing with my dog Tessie.

SCHEDULE YOUR COMPLIMENTARY FIT EVALUATION

Mark Dawson

,

Professional Personal Trainer

Years of Experience

Credentials

Bachelor of Science in Sport & Movement Science
NSCA-CPT
Red Cross First Aid, CPR, AED L1

I achieved my Bachelor of Science from Salem State University and have worked as a personal trainer and coach since 2012.  As a personal trainer I have helped people lose weight, get back into shape after a hiatus, and aided in their return from injury.  As a running coach, I have guided people to qualify for the Boston Marathon, lead divisional champions to multiple year titles, coached athletes to the national spotlight and made sure they did so safely, effectively, and while taking precautions to prevent injury. I believe everyone deserves the opportunity to feel their best and through a well coordinated plan people can achieve that feeling.  I will work to identify areas that need improvement in people's movement that are causing them pain or holding them back from being a better version of themselves. My hope is to bring all of my knowledge and experience to all of our FT clients!

Jordan Noone

,

Professional Personal Trainer

Years of Experience

Credentials

Bachelor of Science Applied Exercise Science
Functional Range Conditioning Mobility Specialist (FRCms)
Precision Nutrition (Pn1)
Licensed Massage Therapist (LMT)
Red Cross First Aid & CPR L1

My goal as a coach is to help you move and feel better so you can spend more time doing whatever it is you love to do! Fitness and movement have been passions of mine ever since I discovered the life-altering impact they can have on self-confidence, mood, physical appearance and overall well-being. I graduated from Springfield College with a Bachelor of Science in Applied Exercise Science, and I have spent countless hours working in a variety of strength and conditioning, sports performance and personal training settings. I am also a Licensed Massage Therapist, which gives me a unique perspective into the influences and intricacies of human movement.

Patrick James

,

Professional Personal Trainer

Years of Experience

Credentials

Bachelor of Science in Exercise Science
ACE-CPT
Red Cross First Aid & CPR L1

As an athlete growing up I spent much of the year training for sports such as football, wrestling and track/field which helped me stay active and fit. It wasn't until I stopped playing sports my sophomore year of college that I realized that I didn't understand how to ACTUALLY workout by myself as I always had a workout program pre-written for me. This inspired me to understand the science that went behind exercise and fitness. I graduated from Mount Wachusett Community College and Fitchburg State University earning an Associates of Science in Allied Health and a Bachelors of Science in Exercise Science. I had my start in the health and fitness field in Cardiac Rehab as an Exercise Physiologist, but I've worked in a variety of settings including Group, Senior, and Corporate Fitness. Above all I enjoy seeing how exercise can change peoples lives no matter their age. My goal is to help you get started on the right track or continue your lifelong fitness journey.

Jake Giampa

,

Professional Personal Trainer

Years of Experience

Credentials

Bachelor of Science in Exercise Science
ACSM-CPT
BLS American Heart CPR and AED

I graduated from Colby-Sawyer College with a Bacelor's in Exercise Science. Since then, I have been working in a rehabilitation setting with patients of varying ages and conditions to improve their strength and functional mobility. My goal is to educate people on the importance of daily exercise for their overall well-being, as well as provide a positive experience for each client as a supportive and friendly coach.

in my free time I like to
watch sports, especially football, spend time with friends and family and my German Shepherd's name is Bruno. I also enjoy playing the bass, golfing, and playing basketball.

SCHEDULE YOUR COMPLIMENTARY FIT EVALUATION

Dawn DiPietropolo

,

Client Experience Specialist

Years of Experience

Credentials

Bachelors of Science in Communications.
ACE - CPT
FMS
Precision Nutrition (PN-1)
American Red Cross CPR and First Aid Certified

I am a wife, and a Mom of two boys and a dog named Luna. Health and fitness has always been a big part of my life. I have worked both in and out of the fitness industry for a lot of my life. In 2015 I joined Fitness Together as a client, at that time I was struggling with an autoimmune disease that was affecting my everyday living and my ability to exercise without pain. Thanks to the guidance of Tom Lavoie, and his team at Fitness Together, I am able to exercise without pain. It was that experience, coupled with my love for coaching and supporting others that inspired me to learn more about the health and fitness industry and explore it as a career. As the client experience director, I am here to help you with your fitness journey. I look forward to assisting with scheduling, answering questions, working on special projects, and helping to build a strong Fitness Together community.

Sarah Bord

,

Professional Personal Trainer

Years of Experience

Credentials

National Academy of Sports Medicine
Red Cross Adult and Pediatric First Aid/CPR/AED
CFSC anticipated Spring 2023

As a dancer for 17 years I learned early on about the clarity and calmness movement provided me. While I liked performing, I found the most enjoyment in the constant journey of learning, struggling, practicing and perfecting. After transitioning away from dance due to various injuries, I discovered I could feel the same joy and mental clarity through exercise as well. My goal is to create a safe and supportive environment in which people can achieve their goals, celebrate showing up for themselves, and find the small joys and motivators within their journey. Outside of Fitness Together, I am a stage manager for Boston Ballet and feel incredibly lucky that in both places I get to spend my time with people striving to be the best versions of themselves.
here's how it works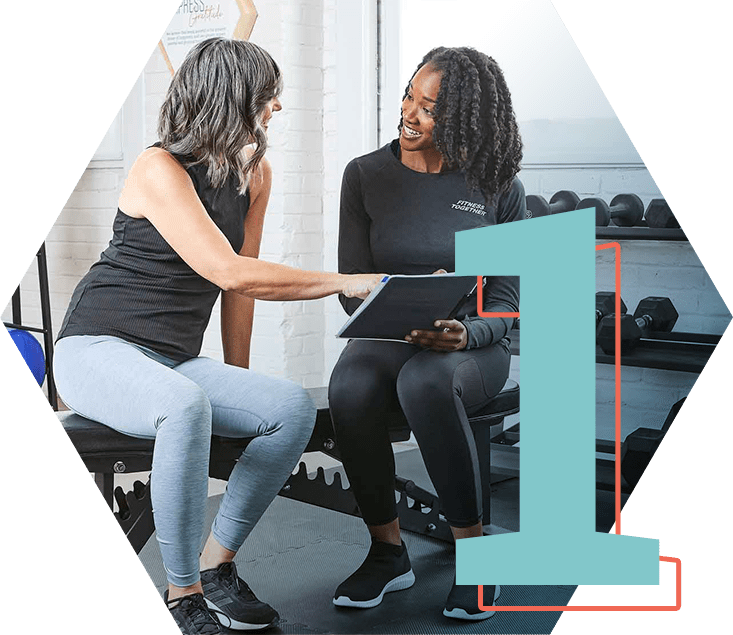 complimentary
signature fit evaluation
A complimentary signature process where we learn about your goals, health history, and take you through a mini workout so we have the information we need to begin building your customized program.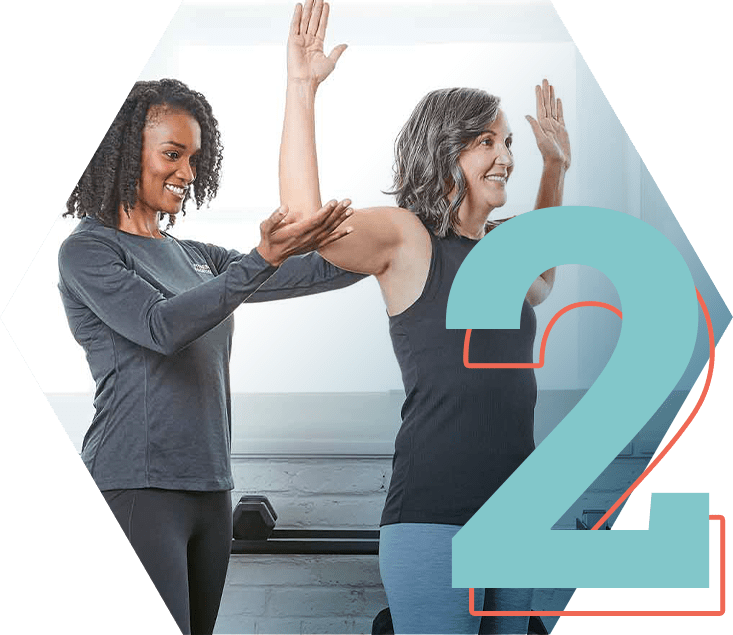 full body assessment
A comprehensive fitness assessment to collect baseline metrics that will help us track your progress.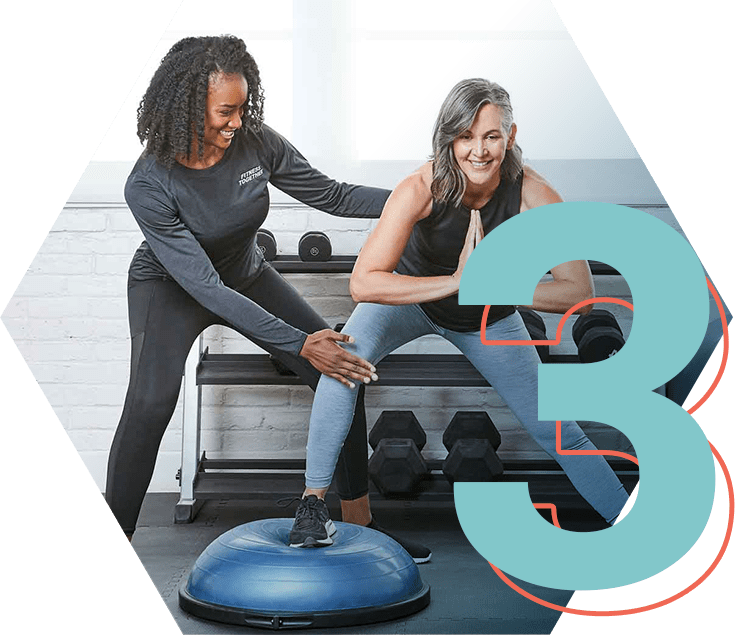 personal training session
Meet your trainer in your private suite (or virtually) for your 1:1 session to begin your completely customized workout program.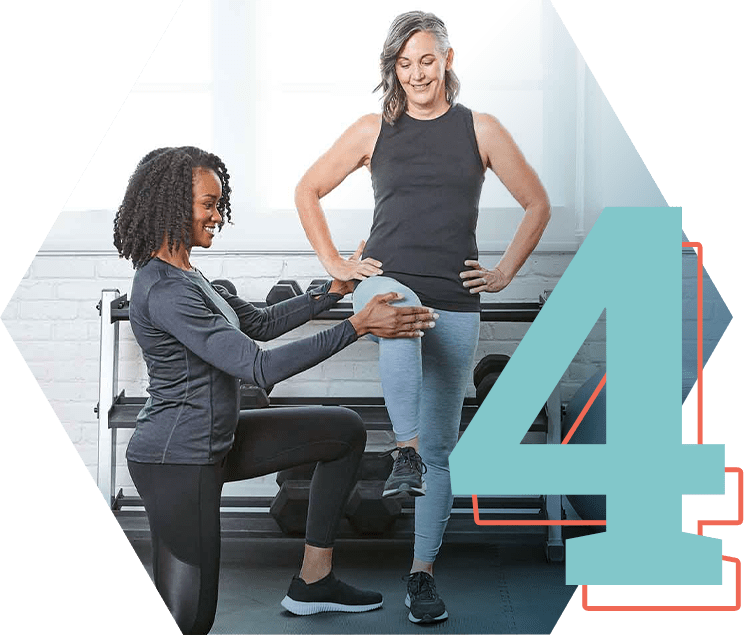 progress checks
A comprehensive assessment every 6 weeks so we can celebrate your progress and set new goals.
WHAT CLIENTS ARE SAYING...
The high quality training and nutrition advice at Fitness Together has helped me reach my fitness goals. I've lost 20 pounds and have a BMI of 22.8!

Friendly people who care about helping you achieve your goals. FT helped me prepare to hike the Appalachian Trail at age 65. If you have the will, FT will show you the way.

I started working out after having breast cancer and heading to osteoporosis. My primary goal with FT was to increase bone density. I now have normal bone density.

I have been working out at FT for a couple of years and it has made a dramatic difference in my health. I no longer need hip surgery and I am able to dance and hike again.