personal training in private suites
PRIVATE WORKOUT SUITE no crowds - just you and your trainer.
CUSTOMIZED WORKOUT programs to fit your needs and goals.
FULLY-EQUIPPED studio suite - no waiting for equipment and no distractions.
Be part of a COMMUNITY that will support you through your journey.
stay on track with your goals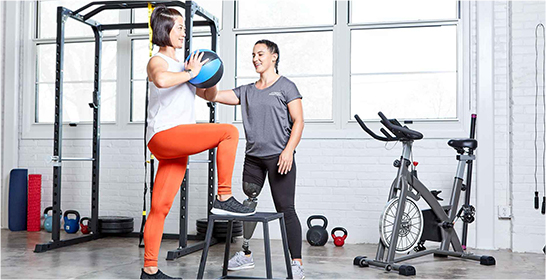 You will feel welcome and comfortable the minute you walk through our doors. Our studios are comprised of a small number of individual fully- equipped private workout suites so you and your personal trainer can devote all attention and energy to your workout.
Can't always make it in, but want to to stay on track with your goals? Check out our LIVE 1-on-1 Virtual Training.


initial assessment to set the
BASELINE & CREATE GOALS

get started in one of our in-studio
PRIVATE WORKOUT SUITES
WHAT CLIENTS ARE SAYING...
Fitness Together is fantastic way to get in shape. One on one personal training is just about you not a group doing the same thing. Your trainer develop workouts that are for you and geared to what you are able to do. Plus the workouts change as your level of fitness does You are never bored because you are challenged continuously. Your trainer explains and demonstrates each exercise and is always thereto much sure your doing it right. All trainers are friendly and professional as well people who seem to really enjoy their job. The gym is clean and COVID regulations.are carried out from the time you enter until you leave. This is a facility we're you are safe and enjoy being at.

Great team, great individualized work outs!

Awesome personal and group training. All the trainers are knowledgeable and meticulous about form. They modify and develop workouts with the client in mind. During COVID I lost 10 pounds and I attribute that to the motivation of that the trainers at FTReading give me to stay on track. They even had virtual workouts during the shutdown. I thought I was not going to be able to stay in shape and stay strong. I was wrong. I got the same workout as I did in the gym. I look forward to my workouts and when I miss I feel really sad. I am a grandmother and not a student athlete in case you were wondering. Now I can workout with and keep up with people who are much younger.

Tom put together a workout routine for me to get back normal and it's working out great!