personal training in private suites
PRIVATE WORKOUT SUITE no crowds - just you and your trainer.
CUSTOMIZED WORKOUT programs to fit your needs and goals.
FULLY-EQUIPPED studio suite - no waiting for equipment and no distractions.
Be part of a COMMUNITY that will support you through your journey.
stay on track with your goals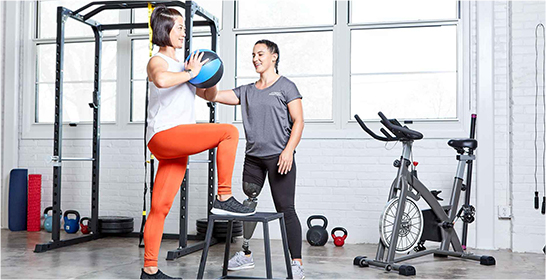 You will feel welcome and comfortable the minute you walk through our doors. Our studios are comprised of a small number of individual fully- equipped private workout suites so you and your personal trainer can devote all attention and energy to your workout.
Can't always make it in, but want to to stay on track with your goals? Check out our LIVE 1-on-1 Virtual Training.


initial assessment to set the
BASELINE & CREATE GOALS

get started in one of our in-studio
PRIVATE WORKOUT SUITES
WHAT CLIENTS ARE SAYING...
Great personalized service and friendly knowledgeable staff. Flexible scheduling

Being able to workout remotely!

Personalized exercise, customed to our need. Our trainer Kathy, is super nice, personable and attentive to our needs. The exercise plan is very methodical and focuses on several skills in addition to fitness, such as balance, coordination, preparation for snowboarding to name a few, and also taking into account our injuries and weaknesses. When the studio closed due to covid-19 we continued to work out from home with no interruptions and were able to borrow equipment from the studio and use it at home. We love feeling part of this small local business which is within minutes from our home. Thanks to Tony and Kathy this turns out to be one of the best choices we've made to improve our health.