personal training in private suites
PRIVATE WORKOUT SUITE no crowds - just you and your trainer.
CUSTOMIZED WORKOUT programs to fit your needs and goals.
FULLY-EQUIPPED studio suite - no waiting for equipment and no distractions.
Be part of a COMMUNITY that will support you through your journey.
stay on track with your goals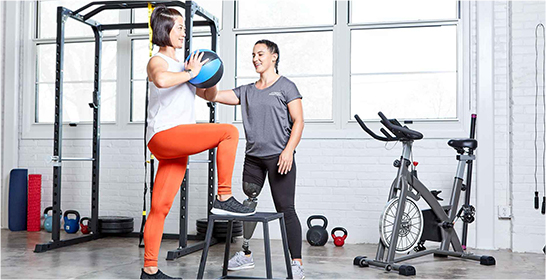 You will feel welcome and comfortable the minute you walk through our doors. Our studios are comprised of a small number of individual fully- equipped private workout suites so you and your personal trainer can devote all attention and energy to your workout.
Can't always make it in, but want to to stay on track with your goals? Check out our LIVE 1-on-1 Virtual Training.


initial assessment to set the
BASELINE & CREATE GOALS

get started in one of our in-studio
PRIVATE WORKOUT SUITES
WHAT CLIENTS ARE SAYING...
I have been working out at FT since their opening in Montvale. After my initial assessment, I am trained with a routine that was personalized for me. I was asked for goals and I am on my way to achieving them! The location is clean, the machines are awesome and spotless. Everything is new and thoroughly sanitized after each use. The one to one training works for me and I am accountable for my time at home each time I sign in. Bob is super nice and Cortney is highly educated in both exercise and nutrition, so we talk about food all the time and she gives me cooking ideas. I absolutely love going there!!!

Very happy and I feel great!! It's private, it feels like I'm in my house. Very clean and safe. My trainer focuses on me and my goals 100% Highly recommend FT!!!

Cortney is fantastic, she puts a lot of thought into the workouts and is easy to talk to. The place is very clean. I have a lot more energy and feel great. I would definitely recommend!

Fitness Together is a great place to work out! I have looked for years for a workout that I can actually stick with for more than a month and now I have finally found that. After just 6 weeks I already feel stronger and feel more fit. The private one on one sessions allow the workout to be tailored specifically for you. Cortney puts a lot of thought into the workouts and will change anything that you need in order for you to get the most out of your session, plus she is super nice and motivating. I highly recommend to everyone, no matter what your experience level is with working out!