personal training in private suites
PRIVATE WORKOUT SUITE no crowds - just you and your trainer.
CUSTOMIZED WORKOUT programs to fit your needs and goals.
FULLY-EQUIPPED studio suite - no waiting for equipment and no distractions.
Be part of a COMMUNITY that will support you through your journey.
stay on track with your goals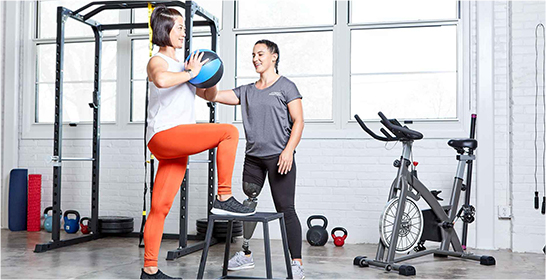 You will feel welcome and comfortable the minute you walk through our doors. Our studios are comprised of a small number of individual fully- equipped private workout suites so you and your personal trainer can devote all attention and energy to your workout.
Can't always make it in, but want to to stay on track with your goals? Check out our LIVE 1-on-1 Virtual Training.


initial assessment to set the
BASELINE & CREATE GOALS

get started in one of our in-studio
PRIVATE WORKOUT SUITES
WHAT CLIENTS ARE SAYING...
I enjoy the varied training sessions. The trainers are excellent!

The personal trainers at Fitness Together have consistently stayed with me throughout what is soon to be a full year of the pandemic. They not only give me a complete at-home workout, but in doing so, they keep my spirits up so I don't get bogged down in the overall depressing atmosphere of the pandemic. None of them have taken chances with the pandemic and I have confidence that when this is all over, we'll have big hugs and I'm looking forward to running laps around the outside of the building, laughing and cheering all the way. Thank you, Fitness Together, for helping to bring us all through this! Truly living up to your name: Fitness! Together!

The staff are excellent. They are knowledgeable, friendly, helpful and expert at modifying workouts for all ability levels regardless of injuries or other limitations. It has been easy to schedule sessions that fit my limited availability and the rapid response to move to virtual sessions when Covid hit was seamless and much appreciated.