Dominick Harwood

,

Co-Manager and Trainer

Years of Experience

Credentials

Bachelor's in Exercise Science and Health Promotion from Florida Atlantic University
Internship with Bill Hebson Human Performance Institute (400 hours)
Certified Strength and Conditioning Specialist by NSCA
Certified in Functional Movement Screen (FMS)
Fitness Boxing Certification from Tony Spain
Nutrition Coach by ISS
Member of the National Strength and Conditioning Association

Dominick Harwood is a co-manager and personal trainer at fitness together with almost 20 years of experience in training and nutrition. He holds a Bachelor of Science degree in Exercise Science and Health Promotion from Florida Atlantic University. He is passionate about helping people achieve their fitness and wellness goals to improve their quality of life. Dominick is a firm believer in a "back to basics" approach with regards to training and nutrition philosophy. He is believing that helping his clints gain strength has a tremendous positive ripple effect to overall health and wellness. He takes joy in helping educate clients during their training sessions, empowering them towards healthy habits in and out of the gym. Dominick has had the privilege of having his own strength facility overseas in Italy where he trained a wide variety of clients from athletes to elderly.

in my free time I like to
spend time outdoors training, fishing, playing sports and gardening. He also enjoys continuing his education and knowledge base regarding health, wellness, and human performance.

SCHEDULE YOUR COMPLIMENTARY FIT EVALUATION

Pam Leonard

,

Trainer and Nutrition Specialist

Years of Experience

Credentials

Certified Integrative Nutrition Health Coach, IIN, NY
Bachelor's Human Ecology, Michigan State University
Former Award-winning Competitive Bodybuilder
Former Licensed Massage Therapist & Bodywork Specialist
Former ACE Certified Personal Fitness Trainer

Pamela is a personal trainer and Integrative Nutrition Health Specialist and CEO of Simply Positive Lifestyle Pamela integrates self-nurturing and nourishment through healthy relationships with food, lifestyle, and environment. She specializes in digging for the root cause of physical stresses that manifest as: fatigue, joint pain, headaches, brain fog, inflammation, digestive issues, autoimmune diseases, hormonal/blood sugar imbalances, insomnia and exhaustion. And with her guidance, it is possible and achievable to overcome them, easily and deliciously, when you know what foods or drinks triggers them. Offering quick, easy and affordable Immunity and Optimal Wellbeing Analysis, Gut-Brain Supplementation and Stem Cell Activation patches, so clients can choose their way to wellness

Caitlin Rowley

,

Trainer

Years of Experience

Credentials

B.A. in Dance/Performance and Romance languages from the University of Arizona
Pilate Certified from Boulder Colorado

Caitlin first began to study Pilates as a dance student at Sarah Lawrence College. She has guest taught in Arizona, and Chicago. Caitlin has worked with numerous athletes from the NHL, NBL, NTL, PGA Tour, US Ski Team, as well as dancers and equestrians. Caitlin was the Pilates Director for the Reebok/Sports Club LA in New York City. Experienced with MS and other neurological conditions, Caitlin collaborated with Bill Fabrocini, orthopedic physical therapist and renowned sports performance training coach, in Aspen Colorado. Although Caitlin works with professional athletes and dancers, anyone can benefit from her ability to pinpoint the subtlest imbalances that once resolved can reshape your body. Extensive studies in dance, kinesiology, biomechanics and yoga contribute to Caitlin's strong teaching skills. In-depth knowledge of anatomy, hands on cuing/stretching, and Feldenkrais inspired techniques are a few of the healing skills she acquired from The Pilates Center curriculum in Boulder.
here's how it works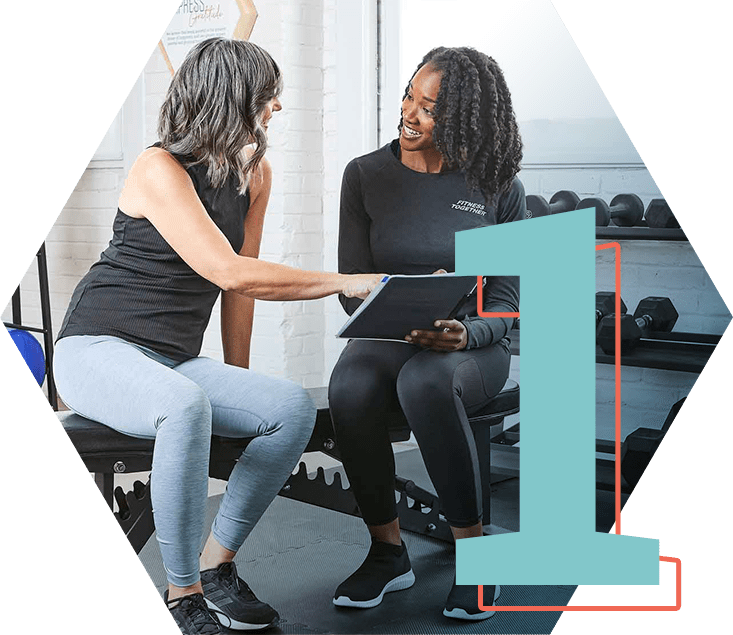 complimentary
signature fit evaluation
A complimentary signature process where we learn about your goals, health history, and take you through a mini workout so we have the information we need to begin building your customized program.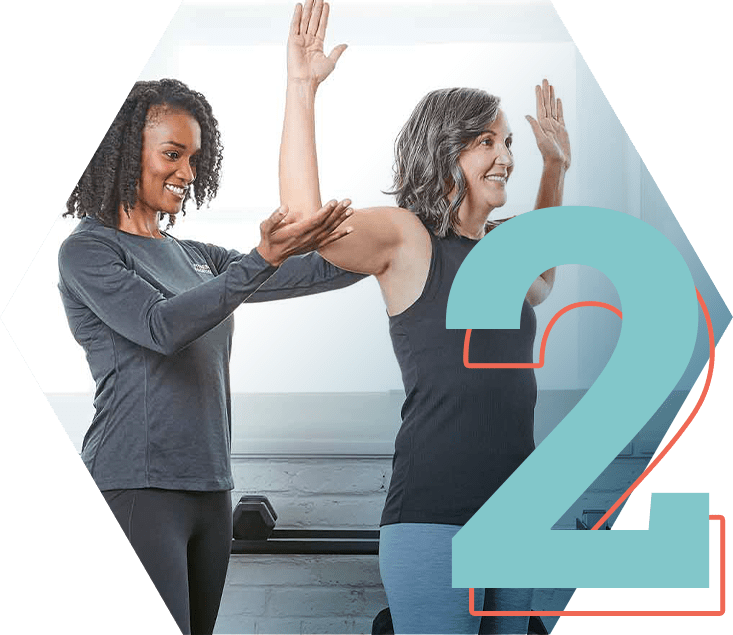 full body assessment
A comprehensive fitness assessment to collect baseline metrics that will help us track your progress.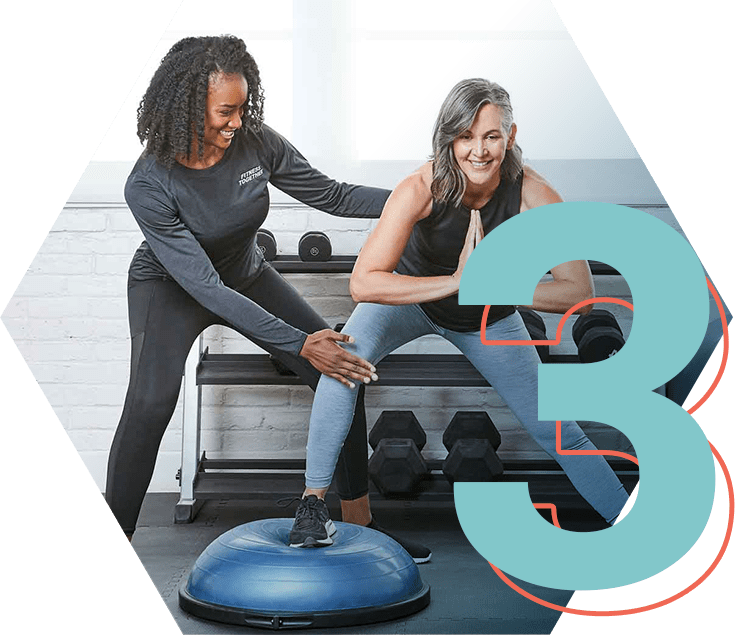 personal training session
Meet your trainer in your private suite (or virtually) for your 1:1 session to begin your completely customized workout program.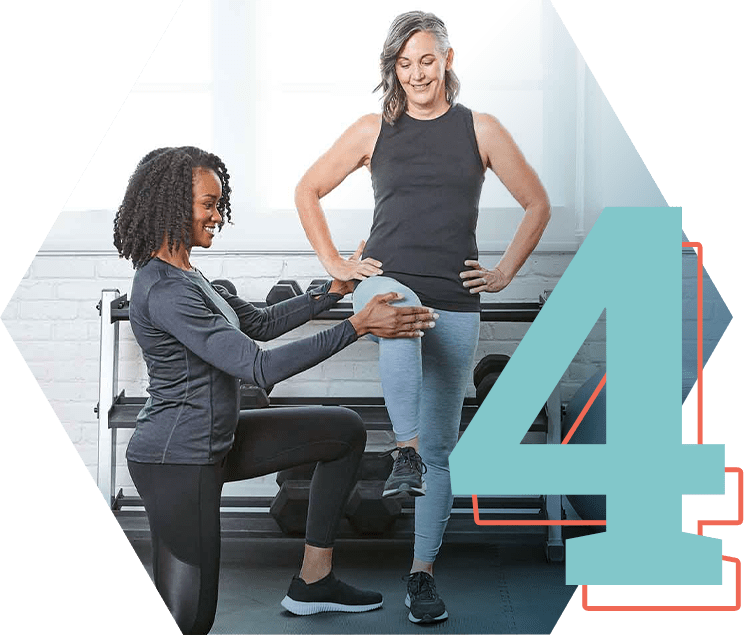 progress checks
A comprehensive assessment every 6 weeks so we can celebrate your progress and set new goals.
WHAT CLIENTS ARE SAYING...
Investing in myself after having a baby at 51 was not easy, but necessary. Before Fitness Together, I couldn't get off the couch without the help of push with my arms. I realized I had lost muscle mass and flexibility. I am amazed that training twice a week with Pamela or Dominick brought back muscle mass and melted away five pounds of unhealthy fat so fast! It's the program Fitness Together uses, emphasizing injury prevention and maximizing range of motion combined with dedicated, patient trainers that has helped me feel more confident and more capable than ever. This is the safest, most effective training program I have ever experienced!