personal training in private suites
PRIVATE WORKOUT SUITE no crowds - just you and your trainer.
CUSTOMIZED WORKOUT programs to fit your needs and goals.
FULLY-EQUIPPED studio suite - no waiting for equipment and no distractions.
Be part of a COMMUNITY that will support you through your journey.
stay on track with your goals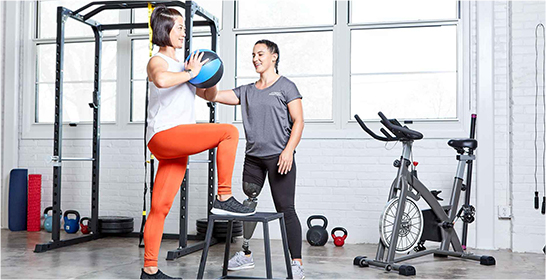 You will feel welcome and comfortable the minute you walk through our doors. Our studios are comprised of a small number of individual fully- equipped private workout suites so you and your personal trainer can devote all attention and energy to your workout.
Can't always make it in, but want to to stay on track with your goals? Check out our LIVE 1-on-1 Virtual Training.


initial assessment to set the
BASELINE & CREATE GOALS

get started in one of our in-studio
PRIVATE WORKOUT SUITES
WHAT CLIENTS ARE SAYING...
Investing in myself after having a baby at 51 was not easy, but necessary. Before Fitness Together, I couldn't get off the couch without the help of push with my arms. I realized I had lost muscle mass and flexibility. I am amazed that training twice a week with Pamela or Dominick brought back muscle mass and melted away five pounds of unhealthy fat so fast! It's the program Fitness Together uses, emphasizing injury prevention and maximizing range of motion combined with dedicated, patient trainers that has helped me feel more confident and more capable than ever. This is the safest, most effective training program I have ever experienced!