JP Krueger

,

Owner/Personal Trainer

Years of Experience

Credentials

B.S. Kinesiology - Umass Amherst
NSCA CSCS
ACSM CPT

JP has always been involved in athletics and physical fitness. He started playing sports at a young age and was always very active. As he developed as a competitive Tennis and Basketball player, he began strength training and maintaining good eating habits. This led to improvements on the field and a better quality of life. When JP was 13 he told his mother that he wanted to wear shorts every day of his career, perhaps to be different than his suit wearing and briefcase carrying father(teenagers, am I right?). He pursued his passion, which led him to start training at Fitness Together in 2008. In 2011 he took over as part owner and in 2019 he took over the business and relocated to Charlestown with the help of a great team of trainers. With his experience, motivation and passion, JP will empower you to reach any fitness goals.

Alla Nemchenok

,

Personal Trainer

Years of Experience

Credentials

ACE CPT
USAW
Tactical Athlete for Kettlebells
MFA School of Visual Arts, NYC
BFA Parsons School of Design, NYC

Alla has always been fascinated by the idea of metamorphosis - the ugly duckling becoming a swan, the butterfly emerging out of the cocoon. When in a welding class in college a mentor told her "If you can conceive it you can create it". This phrase has shaped her path since. While completing her MFA at the School of Visual Arts Alla began experimenting with her body as sculptural material further exploring the relationship between form and function. This had paved her way into the fitness industry. She has since worked with people from various backgrounds with polar interests from high school athletes, fitness competitors, new moms, stroke and cancer survivors, people making their way toward recovery from injury and, of course those just working on getting fit. To Alla the concept of fitness is not only incredibly personal but also 100% mental. Your body won't go where the mind won't push it. Alla believes her function is to act as a GPS, helping each client set a destination or goal and then guide toward the set point. Relevant Interests Alla enjoyes running, aesthetic lifting, olympic lifting as well as functional training.

Sushma Vangala

,

Personal Trainer

Years of Experience

Credentials

NASM Certified Personal Trainer and Corrective Exercise Specialist.
DV8 Certified Kettlebell and Strength Coach.
ACE Certified Fitness Nutrition Specialist.

Sushma's fitness journey began with the self realization to improve her health and push herself to be a confident and stronger Person. She has over 5 years of experience training a variety of clients in India and now in the US. She believes that fitness Is much more than just getting a workout done, it's about being able to move efficiently, improve confidence and adopt a healthy lifestyle. She strives to provide quality workouts and enjoys helping her clients reach their fitness goals by creating smart, achievable plans. A proper technique and form, in her opinion, is crucial to build strength and prevent injury. She aims to help clients develop positive behavioral changes and lifelong healthy habits. When she's not training clients and working out, you can find her whipping up new healthy recipes. She's also a passionate foodie, loves hiking and taking long drives. She's also a recent Pawrent to a cute labradoodle pup named Hazel.

James Patino

,

Personal Trainer

Years of Experience

Credentials

NCCPT
Bachelor's in Exercise Biology - UC Davis

James grew up in southeast LA. There he faced the prevalence of chronic diseases and their eventual culmination to premature deaths for many relatives. James began to serve as a health advocate for his family to help navigate their various diagnoses. During undergrad at UC Davis, he developed a passion for helping medically disenfranchised communities. He was accepted to UC Davis School of Medicine's Transforming Education and Community Health for Medical Students (TEACH-MS) program, which specialized in training students to care for urban underserved communities. As a personal trainer, he saw firsthand the valuable tool that health education and training provided for preventing disease. As a team member of Fitness Together, he hopes to continue building his community advocacy and health education. He is dedicated to adding value through his personal and professional experiences and utilizing both his scholastic and real-world experiences to help clients reach their goals.
here's how it works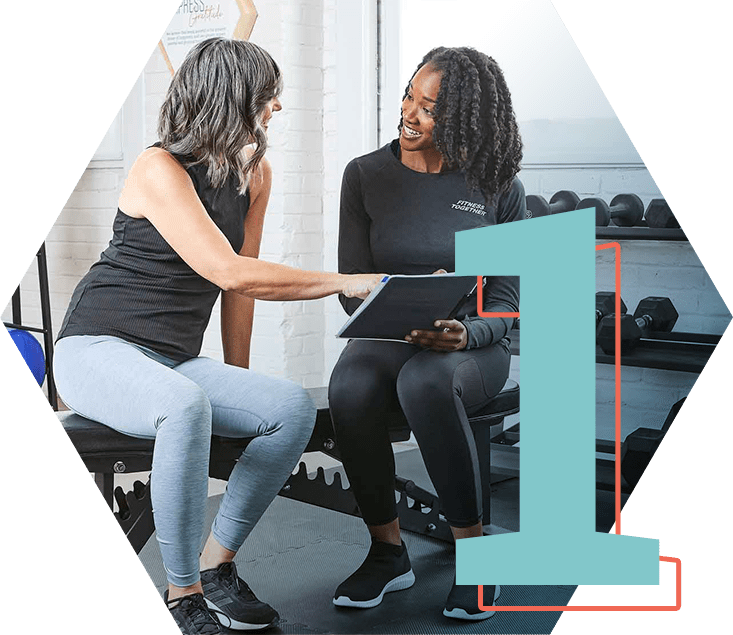 complimentary
signature fit evaluation
A complimentary signature process where we learn about your goals, health history, and take you through a mini workout so we have the information we need to begin building your customized program.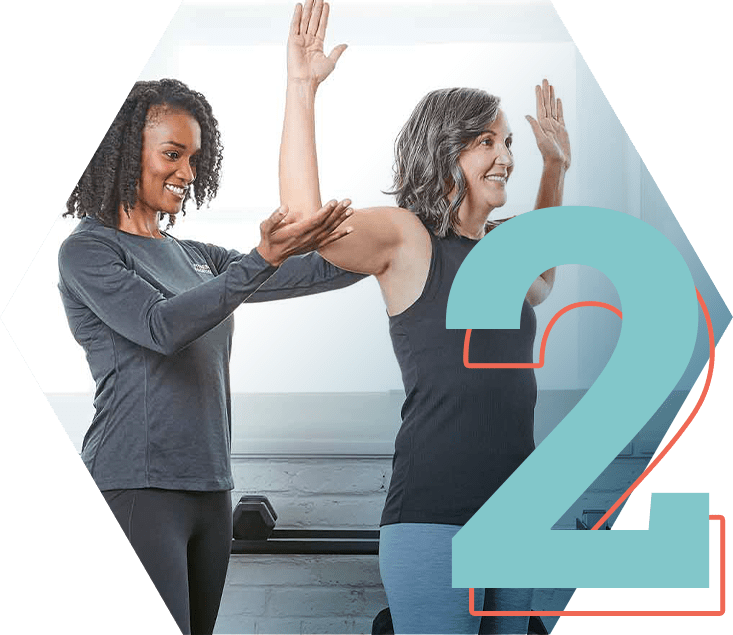 full body assessment
A comprehensive fitness assessment to collect baseline metrics that will help us track your progress.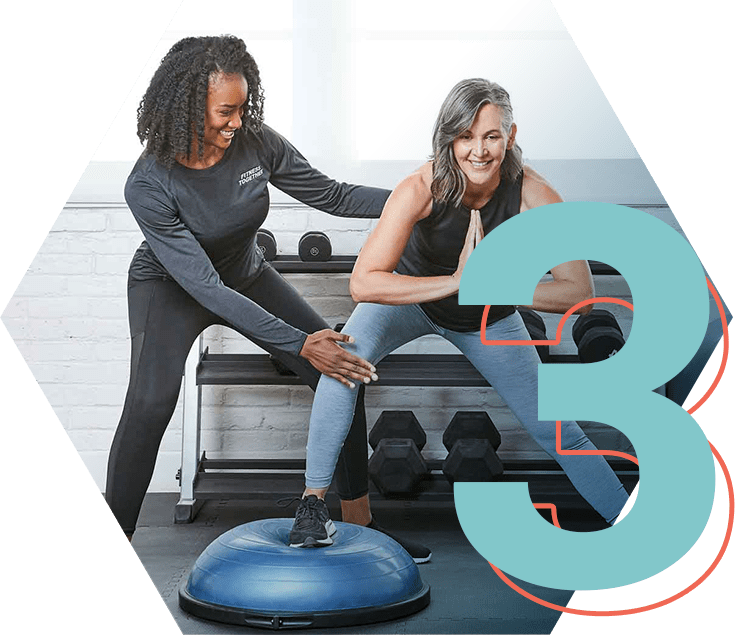 personal training session
Meet your trainer in your private suite (or virtually) for your 1:1 session to begin your completely customized workout program.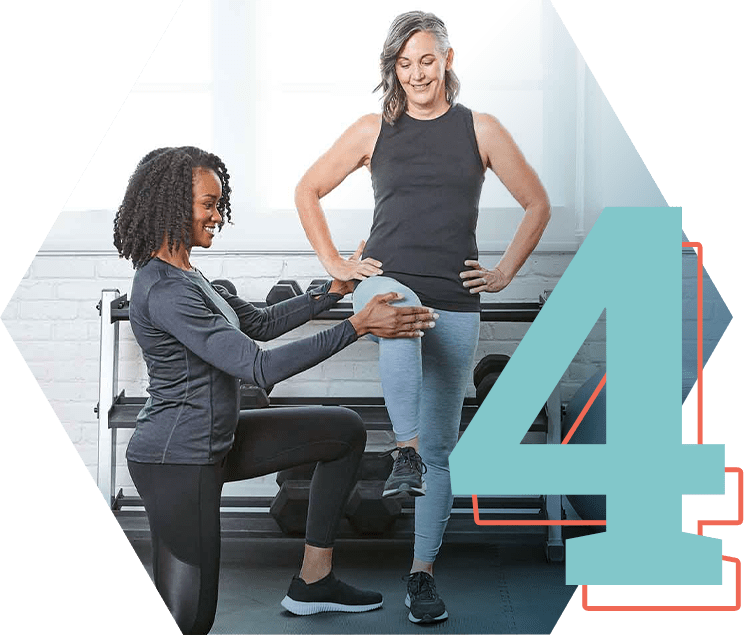 progress checks
A comprehensive assessment every 6 weeks so we can celebrate your progress and set new goals.
WHAT CLIENTS ARE SAYING...
Friendly people who care about helping you achieve your goals. FT helped me prepare to hike the Appalachian Trail at age 65. If you have the will, FT will show you the way.

I started working out after having breast cancer and heading to osteoporosis. My primary goal with FT was to increase bone density. I now have normal bone density.

The high quality training and nutrition advice at Fitness Together has helped me reach my fitness goals. I've lost 20 pounds and have a BMI of 22.8!

I have been working out at FT for a couple of years and it has made a dramatic difference in my health. I no longer need hip surgery and I am able to dance and hike again.