Derek Maxfield

,

Personal Trainer

Years of Experience

Credentials

ACE Certified Personal Trainer
CPR/AED Certified
First Aid Certified
2013 Greater Beverly Chamber of Commerce "Young Entrepreneur of the Year"
2011 Fitness Together Massachusetts "Rookie of the Year"
Currently Serving on:
Greater Beverly Chamber of Commerce Board of Directors and Executive Board
BevCam Local Access Television Boards of Directors
*Past Board Member of the Beverly Rotary Club

Hello everyone! I enjoy seeing my clients reach their goals and look forward to exercising, not just having it be a chore. I strongly believe that nutrition is a very important aspect of fitness and health, and finding the correct activity is the key to total commitment.  I am certified through the American Council of Exercise and have enjoyed working with clients ranging from 14 years old to 83 years old, from athletes to those who have had various injuries.  I started my career working in a public gym, but joined Fitness Together in December of 2008 in Concord, MA.  After two years of service which I thoroughly enjoyed, I became owner of Fitness Together in Beverly, where I have been since December of 2010. I have proudly been named the 2013 Greater Beverly Chamber of Commerce Young Entrepreneur of the Year, have actively participated in professional groups such as BNI, Beverly Rotary, and the Great Beverly Chamber of Commerce, in which I sit on the Board of Directors. I also host an award winning informational program called "Half Hour or Health" that airs on BevCam Local Access Television, Beverly's exclusive access television network.

Dana DeStefano

,

Manager

Years of Experience

Credentials

ACE Certified Personal Trainer
CPR/AED Certified
First Aid Certified

Hey there!  I'm Dana, and I've been a trainer for over 3 years.  My fitness journey began pretty much my whole life.  As a child and into my teens, I had a multitude of back problems, scoliosis and sciatic pain to name a couple.  I credit my mom always taking me the holistic route when it came to helping me better myself, through chiropractic care and acupuncture.  So in my early 20s, I decided to take care of myself holistically by signing up at a local gym and working out with weights.  I fell in love instantly.  Weight training has helped me with, not just my back problems, but any joint pain I've felt along the way.  Evidently, I grew a passion for helping people heal themselves naturally.

Cara LaConti

,

Personal Trainer

Years of Experience

Credentials

Bachelor's Degree in Exercise Science/Health - Bridgewater State University
Physical Education Teacher Certification - Salem State University
MS Certified Trainer
Brigham and Women's Hospital Cancer Survivor's Fitness Training Certification
CPR/AED Certified
First Aid Certified

Hi everyone! I have been involved in the fitness industry for over 30 years.  In working with all demographics and populations - from children, to the elderly, to cancers survivors - I strongly emphasize the importance of functional training to help my clients achieve their goals in a safe, fun, and efficient way.  I comes to Fitness Together having spent a large part of her career with the YMCA (and Fitness Together Reading as well).  I try to be a great example of "practicing what I preach".

Cam Borrelli

,

Personal Trainer

Years of Experience

Credentials

B.S. in Food and Nutrition with a Concentration in Health and Wellness - Framingham State University
Certified Personal Trainer - NASM
Firefighter with Hamilton, MA Fire Department

As a college baseball player, Cam made his enthusiasm for health and fitness into a career. He comes to us via Athletics Republic in Norwood and is currently serving with the Hamilton Fire Department. He has years of experience with training children and adolescents, as well as adults in small to large group settings, as well as one to one private sessions.

Allison Madden

,

Personal Trainer

Years of Experience

Credentials

Bachelor's Degree in Exercise Science - Endicott University
Masters Degree in Exercise Science & Nutrition - Liberty University

Allie has extensive experience with both one to one and small group personal training from her time at Get in Shape for Women and Boston Sports Clubs. Specializing in consultations and training sessions, she has worked with a number of different clients from all walks of life!
here's how it works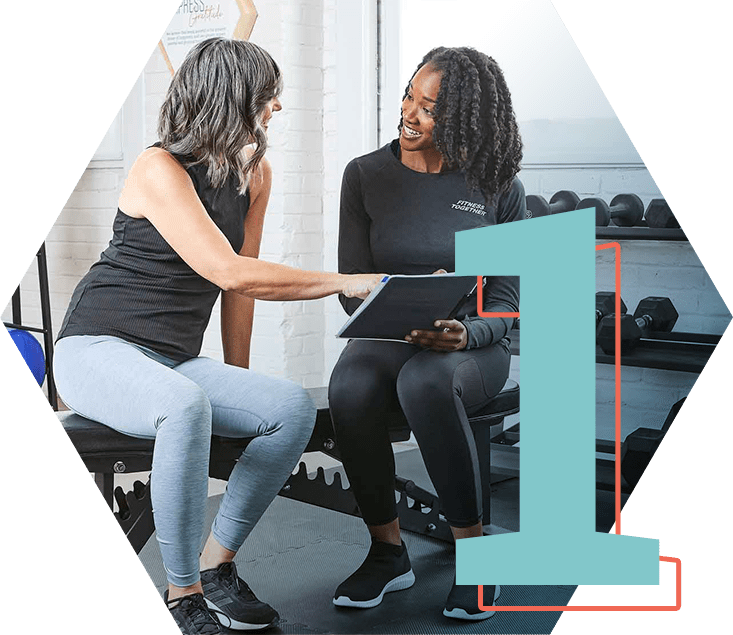 complimentary
signature fit evaluation
A complimentary signature process where we learn about your goals, health history, and take you through a mini workout so we have the information we need to begin building your customized program.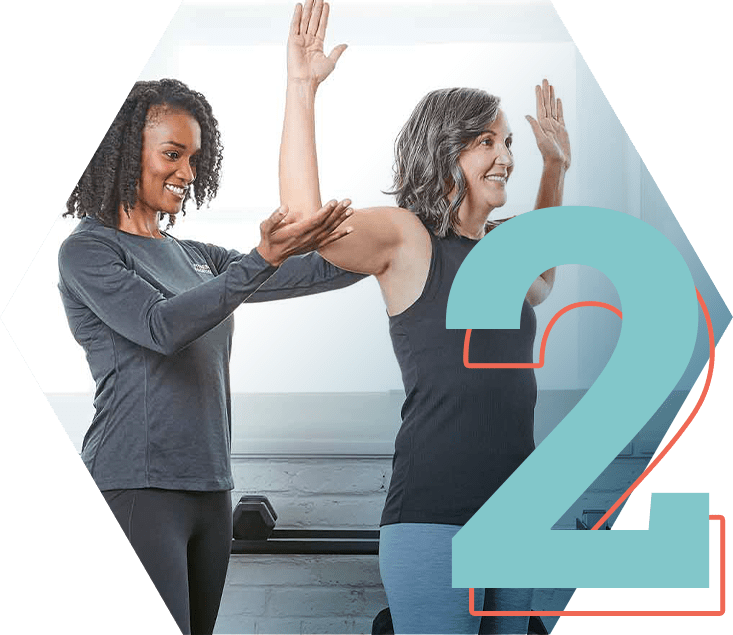 full body assessment
A comprehensive fitness assessment to collect baseline metrics that will help us track your progress.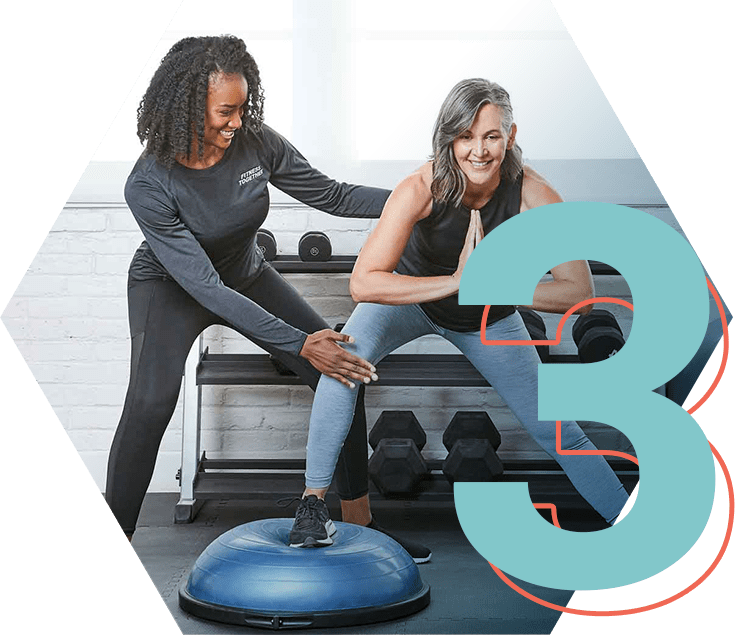 personal training session
Meet your trainer in your private suite (or virtually) for your 1:1 session to begin your completely customized workout program.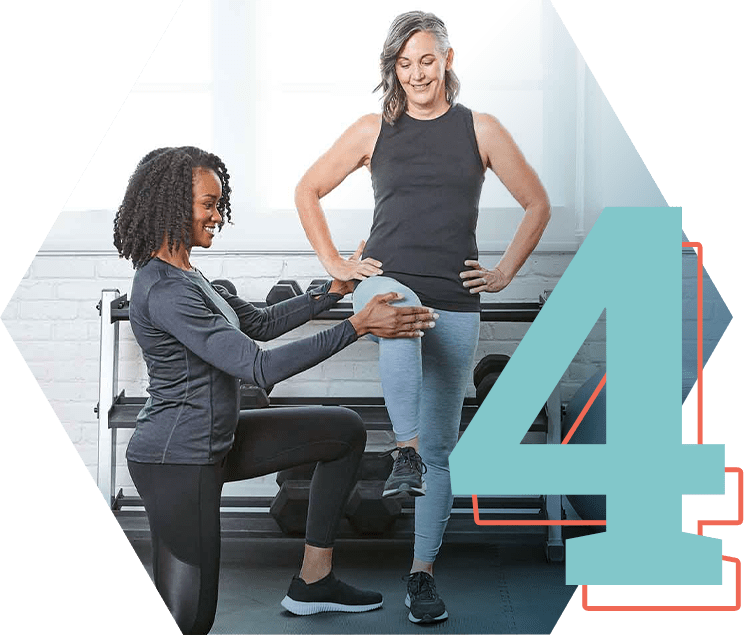 progress checks
A comprehensive assessment every 6 weeks so we can celebrate your progress and set new goals.
WHAT CLIENTS ARE SAYING...
Friendly people who care about helping you achieve your goals. FT helped me prepare to hike the Appalachian Trail at age 65. If you have the will, FT will show you the way.

The high quality training and nutrition advice at Fitness Together has helped me reach my fitness goals. I've lost 20 pounds and have a BMI of 22.8!

I have been working out at FT for a couple of years and it has made a dramatic difference in my health. I no longer need hip surgery and I am able to dance and hike again.

I started working out after having breast cancer and heading to osteoporosis. My primary goal with FT was to increase bone density. I now have normal bone density.