Christopher

, Manager/Certified Personal Trainer

Years of Experience

Credentials

Bachelor's Degree - Exercise Science
Certified Personal Trainer - American Council on Sports Medicine (ACSM)
Exercise Physiology Certification - American Council on Sports Medicine (ACSM)

Hello my name is Chris LaVeck. I currently am a resident of Baltimore, MD, which is where I grew up. I received my Exercise Science degree from Salisbury University in December 2016. My entire life growing up I played many sports which include soccer, basketball, lacrosse, and I ran track for some time in high school. Sports have been a big part of my life, as well as taking care of my body. I always had a passion for the trainers that took care of me while playing sports, and now I'd like to take what I learned and give it back to the clients that I train. I believe it is important to take care of your body and creating a positive lifestyle. Maintaining fitness should be a lot of fun and that's what we make it!

Noah

, Certified Personal Trainer

Years of Experience

Credentials

Certified Personal Trainer - National Academy of Sports Medicine (NASM)

Hello, my name is Noah Leavy, and I'm here to help you achieve your goals - no matter what they are. I am a Silver Spring native, and graduate of The Field School in Northwest Washington, D.C., where I ran Track and Cross Country for 3 years. I gained my Personal Training certification in 2018, and am passionate about fitness and helping others. In 2016 I suffered an injury that resulted in two shoulder slings and a surgery. This taught me how important activity is to one's quality of life. After that period, a strict but reasonable gym routine allowed me to rebuild my body and my life. I believe that fitness is all about helping people improve their quality of life, and I look forward to helping you!

Shay

, Certified Personal Trainer

Years of Experience

Credentials

Certified Personal Trainer - International Sports Science Association (ISSA)

Greetings! My name is Shay Harrison. I am a native of Washington, DC. I graduated from Our Lady of Good Counsel High School (Olney, MD), where I played varsity basketball and was a member of the track & field team. I continued my education and career at Virginia Tech and LaSalle University while earning my Bachelors and Masters degrees. After college, I continued my basketball career on a professional level. I played a few years while living in Finland and Portugal before coming back home and focusing on other passions. Which led me to starting my own dog services business and earning my personal training certification. After spending 20+ years as an athlete, I understand that fitness and wellness go hand in hand. Everyone has their own personal goals and I will do my best in helping you obtain yours. Start where you are. With what you have. Do what you can. You'll surprise yourself!

Dakota

, Chief Barketing Manager

Years of Experience

Credentials

Masters in Barketing
Certified snuggler
Cardio Conditioning and running scholar
Certified dog treat aficionado

Woof! My name is Dakota and I am the Chief Barketing Manager for the studio! I love exercising, eating treats, running, fetching, swimming, chasing squirrels and belly rubs...especially belly rubs! Ask me to "pound it" and I might just give you a fist bump for a job well done on your workout =) If you do see me at the studio, I expect 3 sets of 10 pets before you go, on the double! (Oh, and don't tell Dad I told you, but he keeps the treats in the wall cabinet in the office...did I mention I like treats?)

Aidan

, Certified Personal Trainer

Years of Experience

Credentials

Certified Personal Trainer - American Council on Exercise (ACE)
Certified Cardio Kickboxing Instructor
Certified CPR/AED/First Aid Instructor - American Red Cross

Hello! My name is Aidan Marshall-Cort. Born and raised in Maryland, I attended the University of Maryland, College Park studying Neurobiology and Physiology. As an individual who was born with a speech disorder, I've experienced the many hardships that come in life while trying to overcome a disability. As I experienced the wane of self-efficacy, I found confidence and humility through fitness. As I saw myself achieve the various goals that I set, I found the benefits affect other aspects of my life. I value empathy, transparency, and inclusion. I love to be challenged and learn different perspectives. I appreciate and value what you bring to me as I am always eager to learn. My goal is always to listen, understand, and provide the quintessential experience here for you at Fitness Together! I am excited to work with you and illuminate what you are capable of with the right amount of support and challenge!

Marques

, Certified Personal Trainer

Years of Experience

Credentials

Certified Personal Trainer - National Academy of Sports Medicine (NASM)

I was born and raised in the Washington, D.C. area and I graduated from Paint Branch High School of Science and Media where I was former state champion and Junior Olympic champion in Track and Field. I also attended the University of Maryland and UDC. Before becoming your guide, I worked in the hospitality and food service industry where I had the opportunity to work with great chefs and cook some of the best food for amazing people, including a former President, countless celebrities and great folks along the way! It was during this time that I rediscovered my love for fitness. I used it as a way to fight everyday stress and combat mental fatigue from the long hours working. Losing my father to cancer is what reignited my passion for health and fitness, and I made the choice to dedicate my life to the overall wellness of my fellow man. I will always make it my duty while we're embarking on this new journey to be with you every step of the way. Cheers to life and our new adventure!

Clark

, Studio Owner/Certified Personal Trainer

Years of Experience

Credentials

Certified Personal Trainer - National Academy of Sports Medicine (NASM)

I started working with Fitness Together in 2014 as a Trainer in the Alexandria, VA studio - one of the top performing studios in the United States. In 2015 I moved up into a manager position, where I was able to implement processes that helped both my team, and my clients grow and reach their goals. Through my four years training, I have helped my clients lose a combined total of over 2,000lbs! My team and I believe in creating positive lifestyle changes, accountability, and making fitness fun!
here's how it works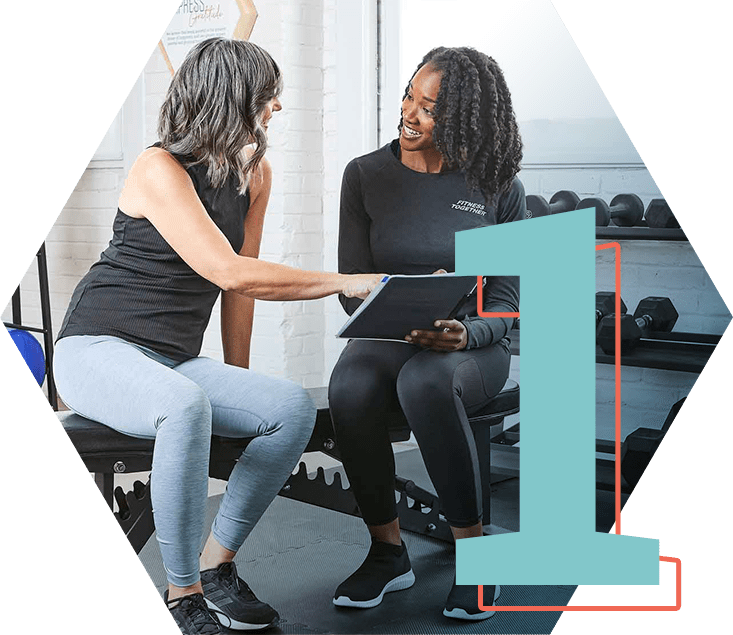 complimentary
signature fit evaluation
A complimentary signature process where we learn about your goals, health history, and take you through a mini workout so we have the information we need to begin building your customized program.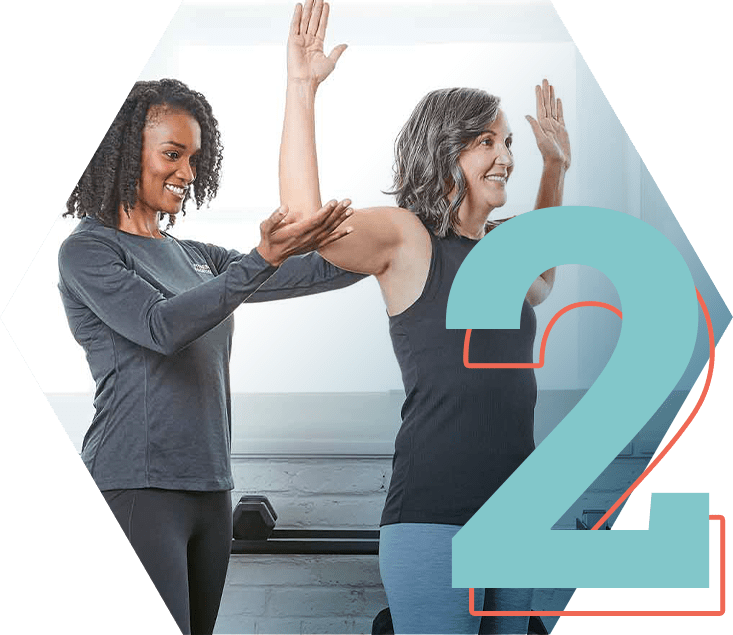 full body assessment
A comprehensive fitness assessment to collect baseline metrics that will help us track your progress.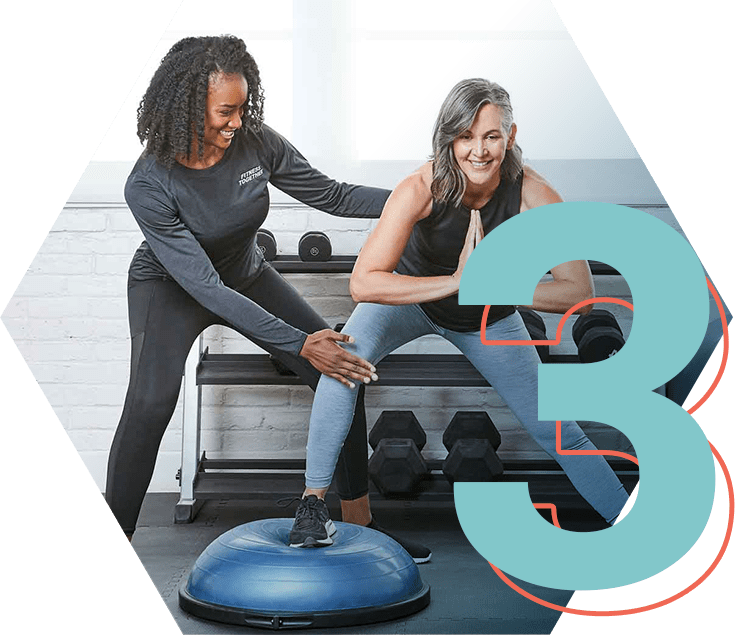 personal training session
Meet your trainer in your private suite (or virtually) for your 1:1 session to begin your completely customized workout program.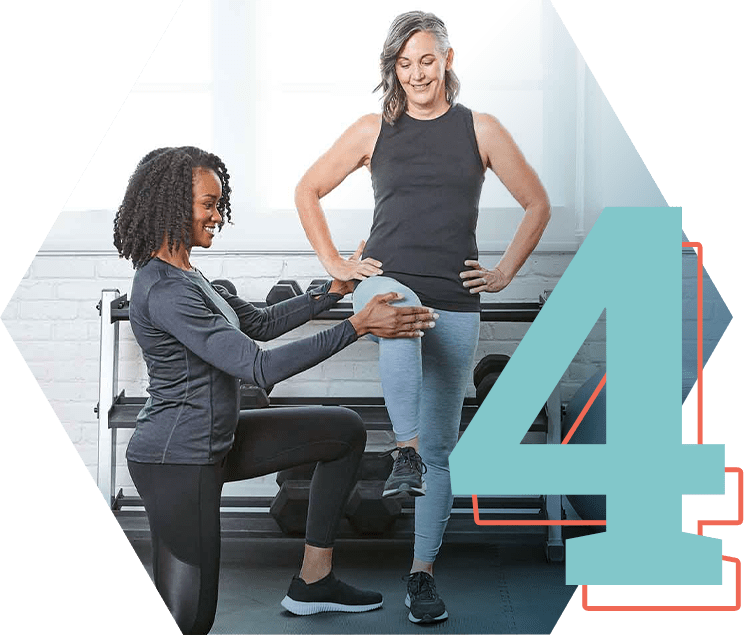 progress checks
A comprehensive assessment every 6 weeks so we can celebrate your progress and set new goals.
WHAT CLIENTS ARE SAYING...
I love how the programs are tailored to my individual needs — both strengths and areas of improvement. The trainers are motivating and caring.

This quarter I'm impressed with the coaches observing one another's sessions. As a client, I see that more than one coach gets to knows me and my program, and so working with someone other than my regular coach feels more efficient.

The trainers are great - encouraging and personable. They also adjust programs to meet the client's current circumstances and are able to explain how exercises impact your body and why the program is structured the way it is.

Great team of personal trainers, very professionals, on point and energetic to help you achieve your goal.