personal training in private suites
PRIVATE WORKOUT SUITE no crowds - just you and your trainer.
CUSTOMIZED WORKOUT programs to fit your needs and goals.
FULLY-EQUIPPED studio suite - no waiting for equipment and no distractions.
Be part of a COMMUNITY that will support you through your journey.
stay on track with your goals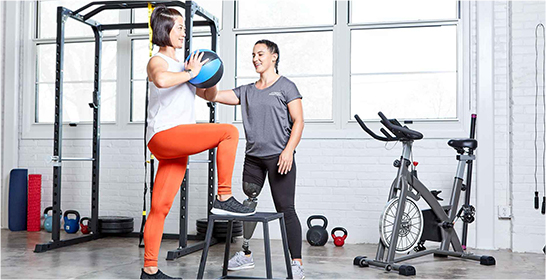 You will feel welcome and comfortable the minute you walk through our doors. Our studios are comprised of a small number of individual fully- equipped private workout suites so you and your personal trainer can devote all attention and energy to your workout.
Can't always make it in, but want to to stay on track with your goals? Check out our LIVE 1-on-1 Virtual Training.


initial assessment to set the
BASELINE & CREATE GOALS

get started in one of our in-studio
PRIVATE WORKOUT SUITES
WHAT CLIENTS ARE SAYING...
Very personalized and positive as well as practical

Blake is an excellent trainer. He observes my form carefully and makes corrections, if needed, to maximize the effectiveness and safety. He gradually increases difficulty, assuring that I am progressing

Great personalized service! I have an injury and normally wouldn't work out. My fabulous trainer, Vince, designed workout routines so that I can still workout around my injury. All the trainers at this location are extremely professional and knowledgeable. It's one on one, separated and totally safe and clean. They also offer one on one virtual training. I would recommend Fitness Together to anyone, those trying to get back into shape, those with no experience or those with experience that want to take fitness to a new level. You really can change your outlook and lifestyle. The folks at Fitness Together will support you in all aspects of health and well being. The owners Blake and Gwen are great people and I consider them good friends. I am please with the small business and family owned atmosphere and especially the encouragement I have received on my journey to better self care and overall well being!

Consistency, good people, super knowledgeable. Creative with workouts, so they don't get stale or boring.