Dan Goulet

,

Owner - Coach

Years of Experience

Credentials

Certified Strength and Conditioning Specialist (CSCS)
Certified Functional Strength Coach
Precision Nutrition level 1
CPR/AED

Hi my name is Dan Goulet and I am honored to be a part of the Medfield Community. Having been a business owner in Medfield for the past 10 years I have met several great people and love helping our community improve their health. At Fitness Together Medfield, we value the trust that you put in us to help you take care of your most prized possession - your body and health. Maybe you have never worked out and don't know where to start, are battling an injury or health condition, or just want the energy to do what you love every day. We are here to meet you wherever you are in your health and wellness journey. My team and I wake up everyday excited to live out these core values in every interaction we have with our amazing clients.

in my free time I like to
In my free time I enjoy hiking, playing golf and hockey. The best days for me are the days spent with my amazing wife Kim, son Connor with our little bulldog Rosie.

SCHEDULE YOUR COMPLIMENTARY FIT EVALUATION

Ryan Sullivan

,

Manager / Coach

Years of Experience

Credentials

Strength and Conditioning Coach Certified
Poliquin International Certification Program
Postural Restoration Institute
Functional Movement Screen
USA Weightlifting
CPR/AED/First Aid

I received my BS from Springfield College in Applied Exercise Science and MS from Boston College in Leadership and Athletic Administration. My time in the fitness industry has led me to many roles. I have worked with Division 1 athletes at 5 different universities across the country, and professional athletes in the NFL, NBA, MLB, and NHL. I have also worked at many private training facilities from large commercial gyms to small private training studios. I pride myself in improving client's movement qualities and helping them achieve lifestyle goals. My favorite part of being a trainer at Fitness Together is the bond I build with the clients. I live in Medway with my wife, Carolyn and daughters, Anna, Katherine and Audrey.

Lexie Chitwood

,

Coach

Years of Experience

Credentials

ACE Certified Personal Trainer
Muscle Activation Techniques Level 1
ACE Functional Training Specialist
CPR/AED

Hi, my name is Lexie and I am an Ohio Wesleyan graduate from the class of 2009 as well as an ACE CPT. I grew up in Hingham before leaving for college in 2005. I have always lived a very active lifestyle both in sport and leisure. I began figure skating at age 2 and quickly developed a competitive career. During my high school years, I became an avid runner as well. While I loved competitive sports, I did not love the recurring injuries I experienced! I became a personal trainer to gain a better understanding of how and why we all injure. I have been extremely passionate about smart strength training and making exercises fit the client. I tend to think "outside the box" and apply different techniques when making exercises more ergonomically friendly. It's my goal to coach clients on how to make exercise and nutrition pleasurable and not all consuming. When working with you, I hope I can become a "safe place" for you and someone who makes you feel heard and welcome.

in my free time I like to
In my free time, you'll find me outside with my family, friends or solo! I absolutely love hiking, skiing and fishing. I have a wonderful husband, Jason and the best kiddo, William.

SCHEDULE YOUR COMPLIMENTARY FIT EVALUATION

Sam Pappas

,

Coach

Years of Experience

Credentials

NASM Certified Personal Trainer
NASM Certified Nutrition Coach
NASM Corrective Exercise Specialist
CPR/AED American Heart

I started my own fitness journey when I was 16 years old and hired a personal trainer. After my sessions with him, I fell in love with fitness in a way I hadn't before. I continued to push myself through recreational sports and regular exercise. I began my personal training career 5 years ago and have not looked back. I love being able to help people function as their highest selves physically, and get their lives back on track, and Fitness Together is the perfect place for me to do just that.

in my free time I like to
I continue to work on building my own solid functionally-sound base by building lean muscle, while pushing myself beyond my comfort zone in cardio and weight lifting. I also love spending my time with my son as I am teaching him how to live a happy health life.

SCHEDULE YOUR COMPLIMENTARY FIT EVALUATION

Adam Salvatore

,

Coach

Years of Experience

Credentials

Certified Strength and Conditioning Specialist (CSCS)
CPR/AED American Heart

I am excited to be a part of the team and the family at Fitness Together. I received my Bachelor's of Health Science degree from Springfield College in 2017 and have been working at Marathon Physical Therapy and Sports Medicine as a Strength Coach and trainer for the past 3 years. I ran the varsity weight room at a myriad of High Schools, programming for various teams. I also assisted the Physical Therapists in the clinic executing patient exercise plans, offering personal training, and return to sport testing, bridging the gap between rehab and performance. I am recognized as a Certified Strength and Conditioning Coach (CSCS), making me a credible resource for all things fitness and performance! I love how all the trainers have one another's back and how we are all able to learn from one another creating a great atmosphere for our clients. I live by my mission statement of "encouraging others to raise their expectations and smash their ceiling", as it involves identifying and then eliminating the limiting factor allowing for growth and empowerment, that's problem-solving in action! A great life verse I hold onto, reading "I can do all things through Christ who strengthens me" (Philippians 4:13, NKJV) fuels that empowerment.

in my free time I like to
Some of my most treasured and common places I'll be outside of training clients are; the church, the gym, the golf course, and the mountains. I enjoy the outdoors, especially beside a babbling brook in a quiet forest, the calmness and serenity is indisputable. If it has protein in it, I'll eat it and my most commonly consumed foods are likely kale, kimchi, kiwi, and ground beef. That's not all, but that will do for now.

SCHEDULE YOUR COMPLIMENTARY FIT EVALUATION

Chris Lestan

,

Coach

Years of Experience

Credentials

ACE Certified Personal Trainer
CPR/AED

Hello!! My name is Christopher Lestan. I graduated from UMass Amherst in 2021 with a degree in Kinesiology. I am currently pursuing a Masters in Strength and Conditioning from Bridgewater State University. I developed a passion for fitness and health in High School while training for Lacrosse and noticed a significant improvement in my performance on the field but also in my quality of life. Since then, I have believed that exercise and a healthy lifestyle is the key to making life better. I have been involved in coaching, and personal training since I was 20 when I received my ACE CPT. Fun Fact: I won the Novice Heavyweight Class in Rhode Island Strongest Man 2021 which was a super awesome experience. I currently compete in Powerlifting and other strength sports for fun. I even pulled a Ford Truck before!

Laura Kaveney

,

Coach

Years of Experience

Credentials

NASM Certified Personal Trainer
NASM Certified Nutrition Coach
USAW Level 1 Coach
CrossFit Level 1 Coach
CPR/AED Certified

My name is Laura and I grew up in Westwood before moving to NYC for college where I graduated from Fordham University with a BA in Communications and Visual Arts. I worked in the tech industry for 11 years following graduation before realizing I wasn't passionate or excited about my job. I had been an athlete my entire life, playing multiple varsity sports through high school and after college I fell in love with CrossFit and Olympic Weightlifting. I realized the gym was essentially my second home and I made the decision to quit my desk job and pursue what I love for a living and start a career as a trainer and coach. I started out working at Equinox and a Crossfit gym in Manhattan, then moved to Long Island where I continued to train young athletes and adults at a private gym. I love being a part of every clients journey to live a long and healthy life, seeing people get stronger and do things they didn't think they could is one of the joys of being a trainer. I believe that pushing yourself physically helps you become stronger mentally and carries over into every day life.

Nick Cidado

,

Coach

Years of Experience

Credentials

Certified Strength and Conditioning Specialist (CSCS)
CPR/AED Red Cross

Hi, my name is Nick Cidado and I am excited about joining the FT family as a coach. I received my BS from Bridgewater State University in Exercise Science before then earning my MS from Merrimack College in Exercise Sport and Science. I am currently pursuing a secondary MS degree in Leadership and Administration from Boston College, where I also serve as a Strength and Conditioning Coach. In some of my previous roles, I have worked at other Division 1 universities and have also coached at various private sector facilities in the Greater Boston area. I have a passion for movement and exercise which I use to help individuals reach their fitness and lifestyle goals. I am a firm believer in consistency and movement quality which is why my sessions are very progressive in nature. I enjoy building relationships with clients during the process and strive to make the session the highlight of somebody's day.

Anhtuan Nguyen

,

Coach

Years of Experience

Credentials

NASM Certified Personal Trainer
First Aid/ AED

I started to take my health seriously in 2020 during covid when I let myself become 290lbs. I learned how to lift weights and correct my eating habits. In 2022 I lost about 50lbs and stayed at 240lbs. In 2023, I am focused on building lean muscle mass and stay healthy! I was also a self-taught walk-on D2 volleyball player at San Francisco State University. In my last season, I separated my AC, rehabbed it myself, and led my team to 3rd overall in the league and silver champs at nationals. I was also awarded 2nd team setter NCCVL!
here's how it works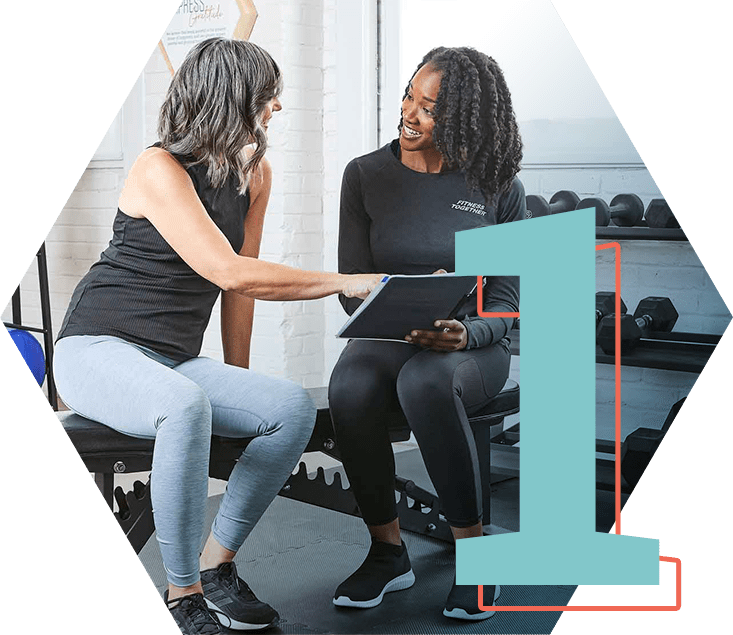 complimentary
signature fit evaluation
A complimentary signature process where we learn about your goals, health history, and take you through a mini workout so we have the information we need to begin building your customized program.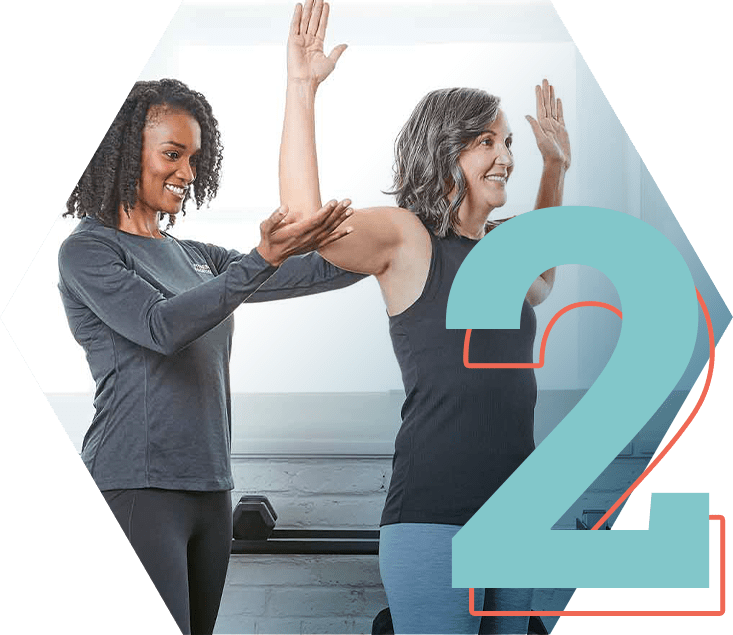 full body assessment
A comprehensive fitness assessment to collect baseline metrics that will help us track your progress.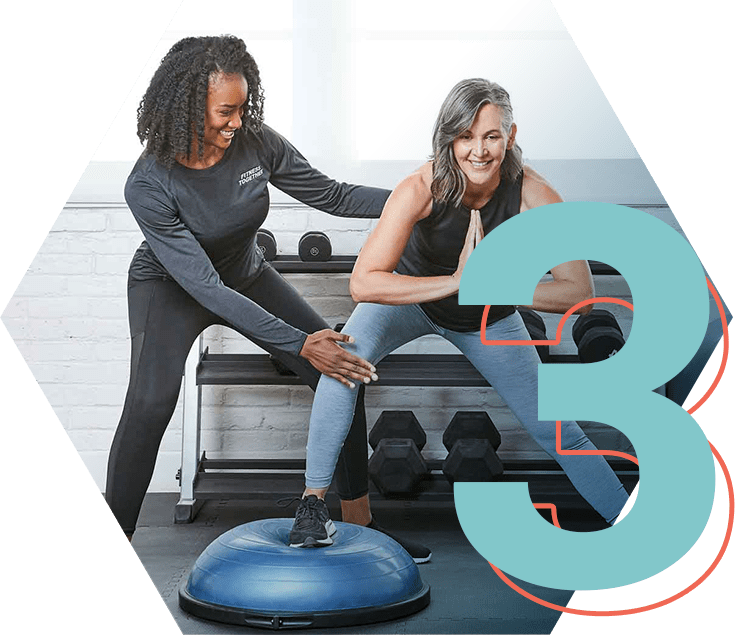 personal training session
Meet your trainer in your private suite (or virtually) for your 1:1 session to begin your completely customized workout program.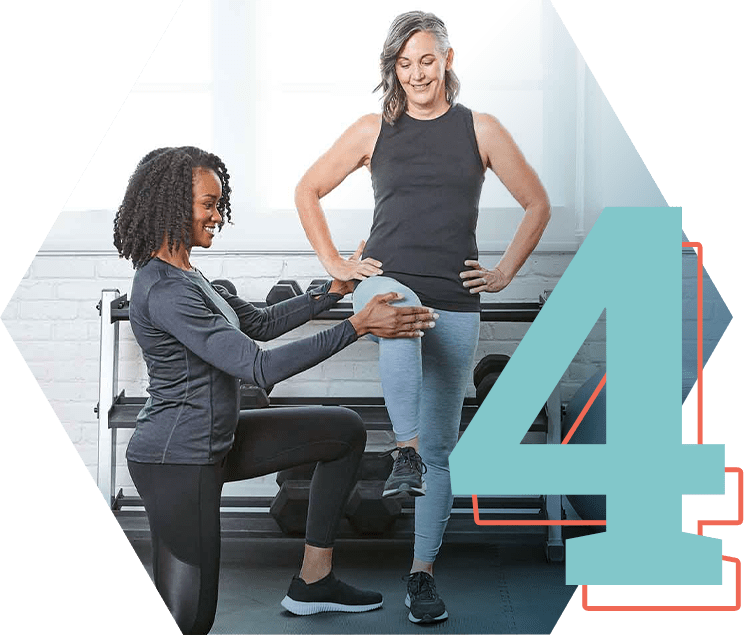 progress checks
A comprehensive assessment every 6 weeks so we can celebrate your progress and set new goals.
WHAT CLIENTS ARE SAYING...
The high quality training and nutrition advice at Fitness Together has helped me reach my fitness goals. I've lost 20 pounds and have a BMI of 22.8!

I have been working out at FT for a couple of years and it has made a dramatic difference in my health. I no longer need hip surgery and I am able to dance and hike again.

Friendly people who care about helping you achieve your goals. FT helped me prepare to hike the Appalachian Trail at age 65. If you have the will, FT will show you the way.

I started working out after having breast cancer and heading to osteoporosis. My primary goal with FT was to increase bone density. I now have normal bone density.