your customized workout. wherever you are. all virtual.
LIVE virtual PERSONAL TRAINER in the comfort of your own space.
CUSTOMIZED WORKOUT programs to fit your needs and goals.
No equipment needed - we'll help you USE WHAT YOU HAVE.
EASY-TO-USE TECH all you need is a computer, tablet, or phone.
stay on track with your goals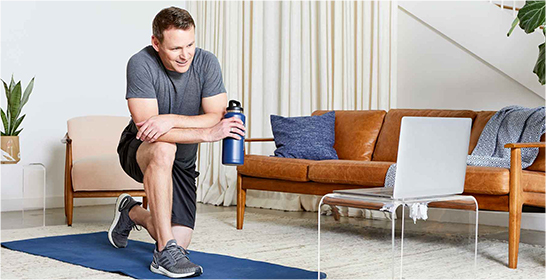 We know that your health, time and well-being are important - we have a personalized approach that will meet you wherever you are: at home or on the go. Whether you're on a business trip, family vacation, or life adventure, fit your workout in easily and on your time.
All you need is a computer, tablet, or phone...and your personal trainer will take care of the rest!

meet virtually for your signature
FIT EVALUATION

complete a virtual fitness assessment to set the
BASELINE & CREATE GOALS

get started by continuing your training
VIRTUALLY OR IN-STUDIO
WHAT CLIENTS ARE SAYING...
Pleasant and quiet atmosphere. Jenny and John have been there for a long time

Friendly atmosphere and knowledgeable trainers

I like the one on one training. It makes me more comfortable. I like the different exercises we do. We do sets on different equipment. She is real patience with me and let's me take breaks. I have started working out. I know I have to be healthy for my kids and myself. My trainer is very knowledgeable about what I can do. I was in a car accident. I'm stronger on my upper half. She's helping me strengthening my lower half. I'm glad I go early in the morning. It makes me day go better.

I would (and have) highly recommended Fitness Together! All of the trainers are knowledgeable and helpful. They push you to do your best but are mindful of any physical limitations giving you alternatives to address the same muscle group. Having an appointment makes it easier to stay committed, however they are flexible and work very hard to accommodate schedule changes. Everyone is friendly and talkative - which makes the 45 minute workouts fly by! Thanks to Fitness together I am much stronger physically and mentally. I am also much more confident and knowledgeable about exercise - particularly working with weights. I would encourage anyone to give it a try!