Russ Yeager

,

Owner

Years of Experience

Credentials

B.S. Business - Auburn University
Masters of Accountancy - Auburn University
ISSA Certified Personal Trainer

After winning an international physique transformation contest in 2002, I decided to turn my passion into my career. In 2006, I took the leap and quit my corporate job and opened my first Fitness Together Private Personal Training Studio. My team and I have helped thousands of women and men transform their bodies, health, and lives and I'm not stopping until I help as many people as possible. I am now 45 years old, run three businesses, and a dad of three amazing children. These responsibilities, combined with being told at the age of 35 that I had the hips of a 65 year old, I quickly realized that I need to do things differently than I had in the past! My focus, and our passion, purpose, and expertise at Fitness Together is helping individuals in their 50's, 60's and beyond achieve the health, energy, vitality and body they want and deserve, to do the things they love with the people they love the most.

Merrill Dodge

,

Studio Director

Years of Experience

Credentials

B.S. in Mechanical Engineering - UMass Dartmouth
NSCA Certified Strength and Conditioning Specialist

Hey there, my name is Merrill and I joined the FT family back in 2018. My degree is in Mechanical Engineering but while I was in school I developed a passion for fitness. After graduating, I decided to pursue that passion and I got my CSCS cert through the NSCA. I've been fortunate enough to work with clients across the spectrum from youth athletes to patients in physical therapy. My favorite part of training is those moments when your clients recognize the changes they've made in themselves and they almost can't believe it. We all start with an idea of what we think we're capable of, but it rarely reflects our true potential. When you get to that moment where you've gone past what you thought could do, it changes you in a fundamental and powerfully positive way. My goal is to help as many people as I can get to that moment where they start believing that they have the power to change themselves and that it's worth it to try!

in my free time I like to
In my free time I like to kick back and relax, life's too short to go 100% all the time. I'm usually a very routine person so I also try to find things that help me shake up the routine and put my mind in a different place. Anything from a long walk through the woods to a deep conversation with a friend is a great way to change up your pace with your free time.

SCHEDULE YOUR COMPLIMENTARY FIT EVALUATION

Malik Elion

,

Fitness Consultant

Years of Experience

Credentials

B.S. Kinesiology
M.S. Exercise Physiology

Born and raised in Memphis, Tennessee before heading to Knoxville to play football and run track at the University of Tennessee where I finished my bachelor's and master's degrees. Athletics and working out has always been a major part of my life, but I found a new passion for training and helping people get better physically after working with the Tennessee football strength staff and I can't wait to make a positive impact and improve more lifes here! "Service to others is the rent you pay for your room here on Earth." -Muhammad Ali

Paula Huff

,

Fitness Consultant

Years of Experience

Credentials

ISSA Certified Personal Trainer
Registered Health Information Technician

Heyyy! My name is Paula. I was born and raised in the DMV area (Maryland to be exact). I moved to GA in 2013 with my husband and kids. I started taking fitness journey serious in Oct 2020 once I had my youngest daughter. I quickly gained a passion for fitness after I saw the transformation I made for myself. Although I want to help everyone on their journey, my goal is to help women feel confident and sexy in their bodies. I joined FT in June 2022 to make this goal a reality!

Neil French

,

Fitness Consultant

Years of Experience

Credentials

NSCA Certified Strength and Conditioning Specialist

Hey I'm Neil. I love working with motivated people who want to better themselves. My journey started in San Diego, CA where I grew up playing all kinds of sports. After I graduated from College in 2014, I joined the Army to serve my country and gain some life experience. While in the Army, I studied for my Precision Nutrition Certification (2020), and following that earned my CSCS (2022) in order to better understand the body, and how to best help people of all different ages, sizes, and backgrounds. My favorite thing about training people is seeing hard work pay off. Whether it be in losing weight, gaining strength, or lowering your blood pressure, I can't wait to celebrate all your wins with you.

in my free time I like to
Outside of training, I like to play board games like Risk and Splendor. I also love to eat and go on bike rides with my wife. I'm new to the area so let me know all your restaurant recommendations and good places to go hiking.

SCHEDULE YOUR COMPLIMENTARY FIT EVALUATION

Dylan Delarosa

,

Fitness Consultant

Years of Experience

Credentials

My name is Dylan DeLaRosa. I'm originally from Bronx New York but I grew up in Atlanta. Fitness has always been a part of my life as I have been an athlete since the age of 5. I grew up playing basketball and football and after highschool I attended Bluefield University where I played basketball and majored in Kinesiology. In college I found my passion for helping others reach their fitness goals. I obtained my certification through ACE Fitness so I can continue to impact peoples lives in a positive way.

Tiana Clarkson

,

Fitness Consultant

Years of Experience

Credentials

NASM Certified Personal Trainer

Hey there! My name is Tiana! I'm a born and raised Georgia peach. I joined the Fitness Together team in December 2021. I grew up a very active kid especially seeing as I always wanted to prove to my two older brothers that girls can be just as strong. I tried all kinds of sports such as cricket, soccer, and eventually played collegiate level golf my first year in college. It wasn't until my dad was diagnosed with type 4 cancer that brought on an entirely new outlook on fitness and health. I began taking my own health seriously after seeing what a difference proper nutrition and staying active had on my dad's health. While learning to love my own fitness journey, I began training peers and family who were seeking guidance on theirs. That's when I knew that helping others be the healthiest and strongest version of themselves was my passion.

in my free time I like to
I love to be outdoors whether it be hiking, exploring the city, or doing something artsy and creative. After a few semesters off I will be returning to Georgia State University Fall 2022 to pursue my degree in Sports Med & Kinesiology so I can continue helping others live the best life they can.

SCHEDULE YOUR COMPLIMENTARY FIT EVALUATION

Brandon Chaney

,

Fitness Consultant

Years of Experience

Credentials

NASM Certified Personal Trainer

Hey, my name is Brandon! I was a client here for almost 10 years before moving up to Pennsylvania to attend Penn State where I am a rising junior with an intended major of Business Administration at the Smeal College of Business. I have been training for two years now and I specialize in bodybuilding and powerlifting, as well as martial arts instruction! I have 11 years of lifting under my belt, as well as 9 years of martial arts where I hold the rank of Second Degree Black belt. I have a passion for helping people reach their goals. All of the wonderful trainers I worked with in my time at Fitness Together were extremely important to the success I had in my journey, and I hope I can be apart of that for everyone who walks through our doors! Lets get to work!

Brandon Mackey

,

Fitness Consultant

Years of Experience

Credentials

Hi! I'm Brandon, from Alabama. As a kid, I was not very athletic, and for a long time I believed I never would be. But that changed when my dad and brother inspired me to start running in high school, and I've been a bit of a fitness fanatic ever since. I've been running and lifting weights for over a decade now, and I love giving myself new goals to reach for. After graduating from the University of Alabama at Birmingham with my degree in neuroscience, I wanted to get out of the lab and back to working with people, so I came to Atlanta and got a job as a physical therapy technician. Since then, I've worked with people of all backgrounds; high school athletes, sedentary retirees, people recovering from surgeries, and people living with chronic diseases and disorders. I became a certified personal trainer and corrective exercise specialist so that I can help as many people as possible achieve their fitness goals in a safe and healthy way.
here's how it works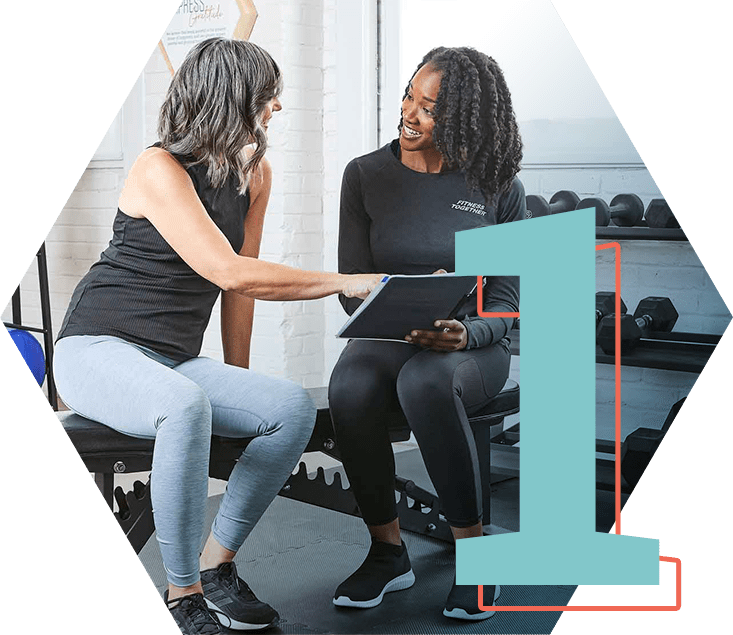 complimentary
signature fit evaluation
A complimentary signature process where we learn about your goals, health history, and take you through a mini workout so we have the information we need to begin building your customized program.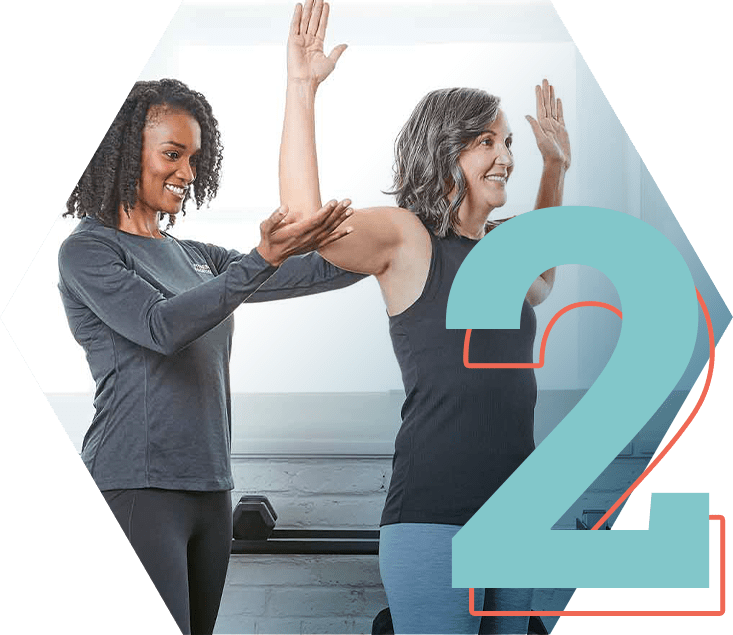 full body assessment
A comprehensive fitness assessment to collect baseline metrics that will help us track your progress.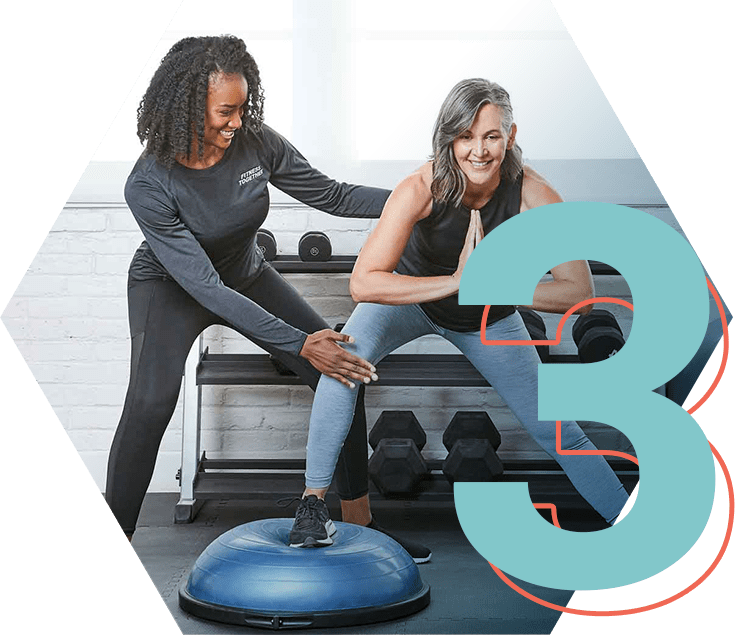 personal training session
Meet your trainer in your private suite (or virtually) for your 1:1 session to begin your completely customized workout program.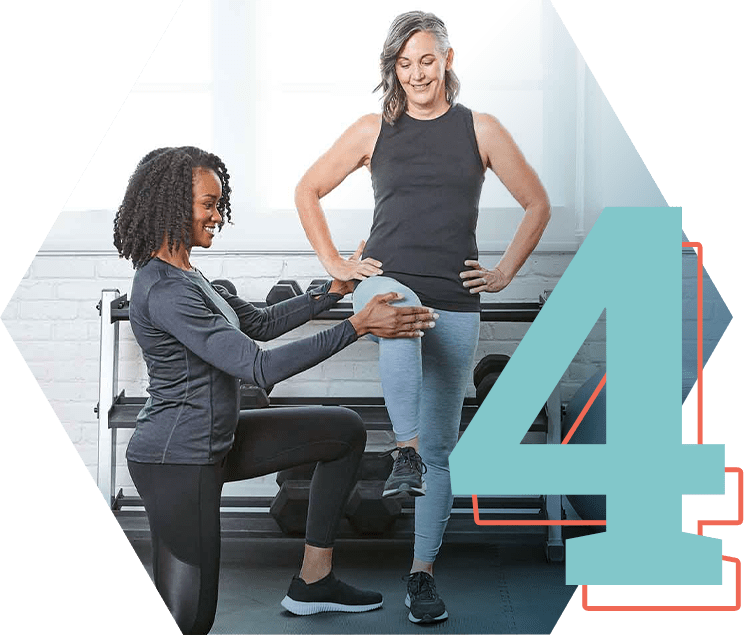 progress checks
A comprehensive assessment every 6 weeks so we can celebrate your progress and set new goals.
WHAT CLIENTS ARE SAYING...
The high quality training and nutrition advice at Fitness Together has helped me reach my fitness goals. I've lost 20 pounds and have a BMI of 22.8!

Friendly people who care about helping you achieve your goals. FT helped me prepare to hike the Appalachian Trail at age 65. If you have the will, FT will show you the way.

I have been working out at FT for a couple of years and it has made a dramatic difference in my health. I no longer need hip surgery and I am able to dance and hike again.

I started working out after having breast cancer and heading to osteoporosis. My primary goal with FT was to increase bone density. I now have normal bone density.