Bob Zadrozny

,

General Manager

Years of Experience

Credentials

ACE Certified Personal Trainer

Bob Zadrozny joined Fitness Together in 2003 as a part-time personal trainer while working in corporate America. After just 6 months of training at FT Bob was so impressed with the FT model he decided to leave the corporate world and open an FT studio in Newton Centre, MA in 2004. Over the next few years Bob learned how to effectively own and operate a successful studio, Bob says "the most rewarding part of owning this business is being able to improve the client's quality of life both physically and mentally." In 2007 Bob decided to open a studio in the South End section of Boston, as the South End location saw rapid growth in the next few years Bob decided to sell his Newton Centre studio early in 2011 to focus strictly on the South End location as well as the expansion planned in the near future. In May 2017 Bob decided to sell the South End studio to explore other opportunities. In October 2017 Bob purchased a recruiting franchise, while he enjoyed running a recruiting business he missed being involved in the fitness industry so when he was offered the position of General Manager at FT South End he welcomed the opportunity to return in such a capacity. Bob looks forward to assisting with the continued growth of the studio, client success and helping to promote a positive work environment. Bob has been a Certified Personal Trainer through the American Council on Exercise since 1999, and has a BA in Psychology. He has enjoyed training clients of all ages and fitness levels and improving his client's lives ever since. Bob has been working out consistently since the age of 18 and as a result he has become aware of the many positive health benefits of exercise both physically and mentally and as a result Bob decided to become involved in this industry as he would like to convey what he has learned to others in order to help people achieve happier healthier lives.

Amanda K. Fuller

,

Personal Trainer

Years of Experience

Credentials

NASM certified personal trainer, CPR/AED certified

Amanda first got into fitness at the age of 12 when she started running. Since then she's completed every race distance up to and including a marathon as well as completed the swim and running portions of a half Ironman. Dealing with knee issues from a young age, Amanda has developed a passion for strength training and the benefits it has in helping to avoid injury and focus on what our bodies are capable of rather than just how they look. Outside of the gym, Amanda works full-time at Tufts Medical Center and is thankful for Fitness Together and the ability to continue with two careers she loves. She is also pursuing her master's in counseling to become a licensed mental health counselor.

in my free time I like to
be out by or on the water, visiting a new winery, spending time with my cat Sushi, and visit my niece (and the rest of my family) out in Texas.

SCHEDULE YOUR COMPLIMENTARY FIT EVALUATION

Anthony "Tony" Delgreco

,

Lead Personal Trainer

Years of Experience

Credentials

NSCA Certified Strength and Conditioning Specialist
CPR/AED by the American Red Cross

Anthony has been involved in fitness since early childhood and his passion continues to grow every day. Trying a variety of sports, he ended up as a swimmer and rower throughout high school and continued to row through all four years of college where he majored in Exercise Science. He continues to row and train, besting all of his personal bests set throughout college. Since graduating Anthony has had experience working with a vast population between the ages of 18-70 years and sport specific athletes from youth to professional ages 10-35 years old. He believes that what happens outside of the gym is just as important as what happens inside. Tony continues to further his education through resources provided by the National Strength and Conditioning Association where he is a Certified Strength and Conditioning Specialist. He wants to help lead people strive to become the best versions of themselves on their fitness journeys.

in my free time I like to
Relax and take it easy from my own training and work, this includes watching shows on Netflix, being outside when the weather is nice, and keeping in touch with friends from college. I also enjoy photography but don't do it nearly enough but hoping I'll make a change for that soon.

SCHEDULE YOUR COMPLIMENTARY FIT EVALUATION

Christine Meimarides

,

Personal Trainer

Years of Experience

Credentials

B.S. in Nutrition
ACSM Certified Personal Trainer
American Red Cross CPR and AED

Christine has always had a passion for fitness and nutrition, starting from a young age she was always involved in sports and loved food. She was a volleyball and basketball player in highschool, which sparked her interest in the importance of staying active and healthy. In college, she majored in Nutrition and Wellness with a minor in Kinesiology. Since finishing school, Christine has had experience working with clients who are looking to lose weight and make lifestyle changes. She believes food is fuel and eating a balanced, healthy diet is just as important as staying active. Christine is eager to help clients reach their lifestyle goals and keep them motivated.

in my free time I like to
spend time with friends and family, traveling, trying new restaurants, and cooking! When the weather is nice, I also like to go on hikes and relax at the beach.

SCHEDULE YOUR COMPLIMENTARY FIT EVALUATION

Ash Karintikal

,

Personal Trainer

Years of Experience

Credentials

Bachelor's in Health Science - Southern New Hampshire University
Associates in Science, Physical Therapy Assistant - North Shore Community College
NASM Certified Personal Trainer
NASM Certified Performance Enhancement Specialist
NASM Certified Corrective Exercise Specialist
NASM Certified Nutrition Coach
Functional Movement Screen Certified - Level 1 & 2
Physical Therapy Assistant - Massachusetts License #9304
CPR/AED Certified by ASTI - Adult/Child/Infant

Ash is a Licensed Physical Therapist Asst., Personal Trainer, and Nutrition Coach. Ash has been working in the health and wellness industry for over fifteen years helping various age groups in achieving their health and fitness goals. During that time, he has attained numerous certifications and continuing education courses, specializing in injury prevention, postural and mobility dysfunctions. Working as a personal trainer, Ash has witnessed the effects of exercise on the human body and this desire led him to pursue a degree in Physical Therapy. ​ As a Licensed Physical Therapist Asst., Ash has treated orthopedic populations with various musculoskeletal injuries and other medical conditions. This experience enabled Ash to have extensive knowledge of human anatomy and treatment interventions for different diagnoses. Ash firmly believes in building a strong rapport with his clients and is dedicated to their well-being.
here's how it works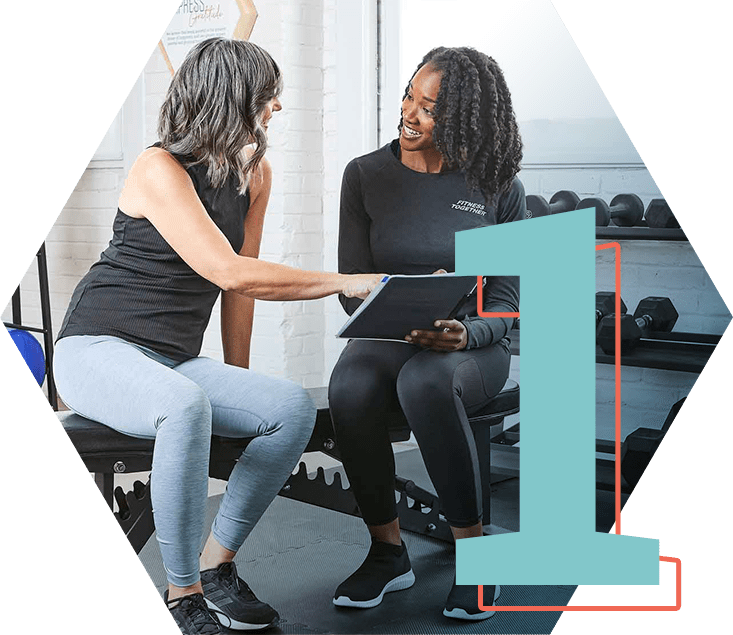 complimentary
signature fit evaluation
A complimentary signature process where we learn about your goals, health history, and take you through a mini workout so we have the information we need to begin building your customized program.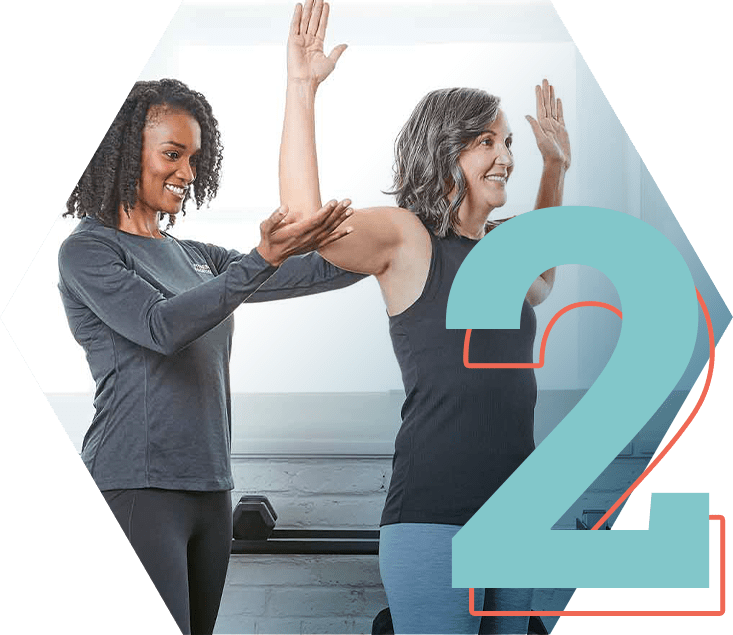 full body assessment
A comprehensive fitness assessment to collect baseline metrics that will help us track your progress.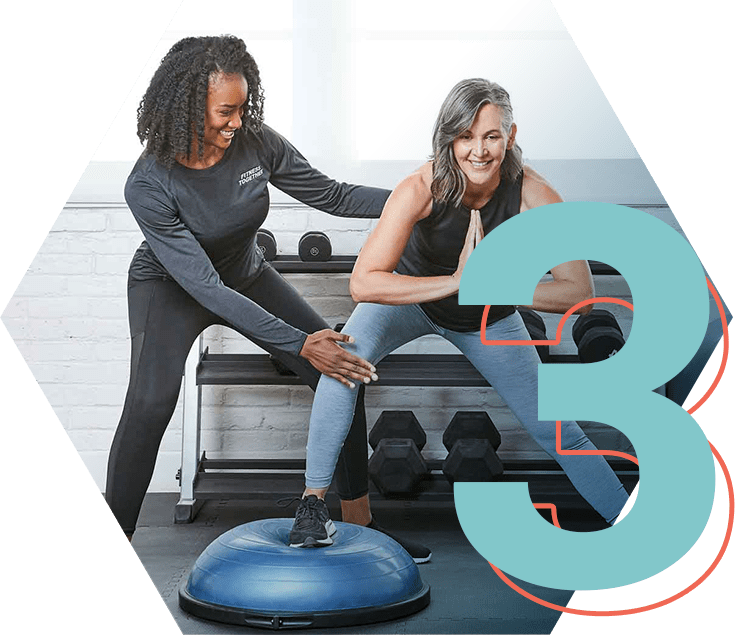 personal training session
Meet your trainer in your private suite (or virtually) for your 1:1 session to begin your completely customized workout program.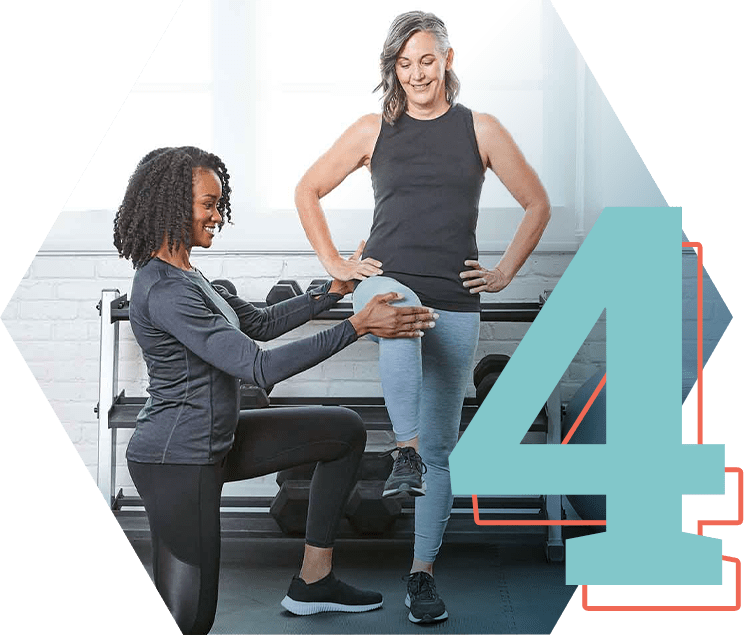 progress checks
A comprehensive assessment every 6 weeks so we can celebrate your progress and set new goals.
WHAT CLIENTS ARE SAYING...
I started working out after having breast cancer and heading to osteoporosis. My primary goal with FT was to increase bone density. I now have normal bone density.

Friendly people who care about helping you achieve your goals. FT helped me prepare to hike the Appalachian Trail at age 65. If you have the will, FT will show you the way.

I have been working out at FT for a couple of years and it has made a dramatic difference in my health. I no longer need hip surgery and I am able to dance and hike again.

The high quality training and nutrition advice at Fitness Together has helped me reach my fitness goals. I've lost 20 pounds and have a BMI of 22.8!