Hunter Kelly

,

Certified Personal Trainer

Years of Experience

Credentials

Bachelor's Degree in Kinesiology from the University of North Carolina at Greensboro

Originally from Fort Worth, Texas He moved to North Carolina to study Kinesiology at the University of North Carolina at Greensboro. Hunter loves helping others achieve their goals in fitness and life.

Samantha "Sammie" Kiefer

,

Certified Personal Trainer

Years of Experience

Credentials

Bachelor's Degree in Exercise Science from Appalachian State University
NASM Certified Personal Trainer

Originally from Hickory, NC. I have been in the exercise world my entire life which stemmed my desire to pursue it as a career. I have a love for helping others especially when it comes to physical health. I combined both my love for helping others and physical fitness into my career.

in my free time I like to
I enjoy being with family and friends in my free time. My favorite things to do are to run, hike, throw a softball around and be active. I also enjoy lifting in my free time and my favorite exercise to do is Bulgarian split squats.

SCHEDULE YOUR COMPLIMENTARY FIT EVALUATION

Nick Smith

,

Certified Personal Trainer

Years of Experience

Credentials

ISSA Certified Personal Trainer

Born and raised in Mooresville, I have a passion for fitness and helping others as a personal trainer. Always being outside growing up, I have ten years of experience playing soccer both recreationally and at the college level.

Joey Reid

,

Certified Personal Trainer

Years of Experience

Credentials

Bachelor's Degree in Sports Management from Huntington College
Certified through the National Federation of Personal Trainers (NFPT)

Originally from Montgomery Alabama. While attending Huntingdon College, Joey participated in basketball and soccer before transitioning to competitive powerlifting. He loves all aspects of fitness and has competed in 5 half marathons, multiple powerlifting meets, and Spartan races. Joey loves inspiring people and giving them the belief that they can do anything they put their mind to. Through hard work, dedication, and the right mind set, anything is possible!

Bryan Wisdom

,

Owner

Years of Experience

Credentials

B.S. in Kinesiology from San Diego State University
Master's in Education from Loyola Marymount University
Author of the book Born to Move
Creator of the Wisdom Movement Method™

Bryan has two decades of experience in the health and fitness industry. "I'm most excited about how well my staff and I implement functional training into each and every workout." He received his B.S. in Kinesiology from San Diego State University and his Master's in Education from Loyola Marymount University. Bryan spent nearly five years training clients in biomechanics at the Egoscue Method exercise therapy company in San Diego, California. He was certified by the NSCA and has worked with NFL, NBA, and professional golfers. He has assisted clients with postural and biomechanical issues and uses exercise to restore the body to proper function. "For me training is about getting to know my clients, and finding the best way to help them attain their goals." For almost a decade he has served the Mooresville community as owner/operator of Fitness Together Mooresville. During that time he has built a great staff-"All my team members go through a very specific training system learning posture and corrective movement. It's great to see how much of an IMPACT our trainers make in our client's lives."

in my free time I like to
You may see him out on the lake or a trail doing things that make him come alive. His passions include surfing, wakeboarding, SUPing, trail running, and biking.

SCHEDULE YOUR COMPLIMENTARY FIT EVALUATION

We're looking for YOU

,

Certified Personal Trainers

Credentials

Current Personal Training Certification
Current CPR + AED Certification (preferred)
Awesome Personality + Communication Skills + High Energy
Organized + Time Management Superstar
Passionately Ready to Coach Clients + Keep the Progress Rollin'
Currently Live in the Lake Norman Area (or Your Bags are Already Packed)
Degree Preferred in Related Exercise or Kinesiology Field
Experience Preferred (But if you've nailed everything else- Let's Chat!)

Are you a Personal Trainer that LOVES what you do? This opportunity could be a GAME CHANGER for you… If you have a passion for impacting lives through health and fitness, you may be just who we're looking for to join our team of professionals. For almost 15 years now, we've been delivering an unparalleled client experience both in studio and now virtually online. Our clients trust and rave about us because our team is 100% dedicated to coaching them to finally reach their health and fitness goals. Nothing beats the high-fives, hugs, and tears when a client drops the extra weight, gets stronger, and moves with the energy and confidence they thought they lost…all because you've been there cheering and pushing them towards success. A little more about us… At Fitness Together Mooresville, we live on PURPOSE, which is to Help People Move and Feel Better for a Lifetime. We wake up daily with the MISSION to Be the Leader in Serving Clients Over 50 with Safe, 1:1 Private Suite Personal Training, Focusing on Realigning, Restoring and Strengthening the Body. And just like elite teams, (think Navy Seals, Army Rangers, now think FT Fitness Ninjas), we value and adhere to a set of CORE VALUES: 1. Love, Protect and Respect (Our Teammates and Clients) 2. "We" not "Me" 3. Do Your Job 4. Results Focused 5. Extreme Ownership- Solution Based We're open 6 days a week, closed on Sundays, and offer consistent schedules (no annoying shift splits). It's a real career with real good benefits and a clear cut road map to progress. We're seeking part and full-time trainers. So if this sounds like the shot you've been waiting for, we'd love to hear from you! Send us your resume and let us know why you should be our top pick.
here's how it works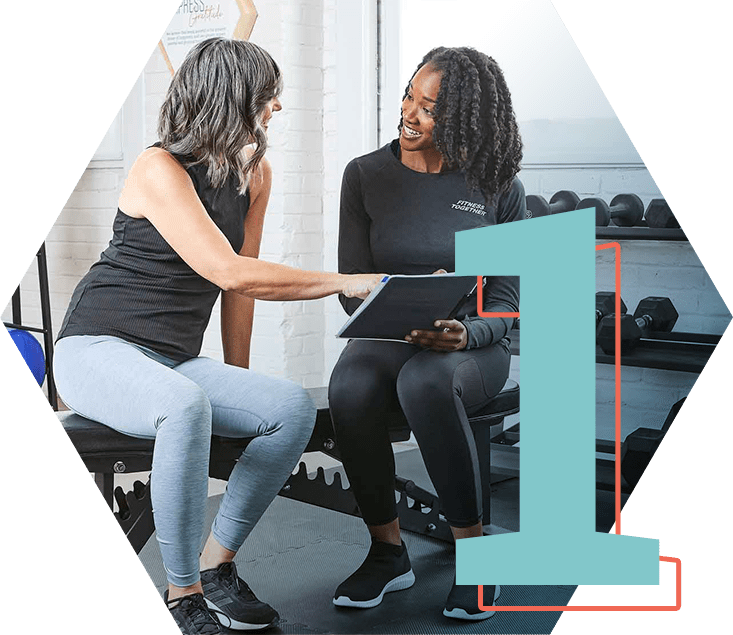 complimentary
signature fit evaluation
A complimentary signature process where we learn about your goals, health history, and take you through a mini workout so we have the information we need to begin building your customized program.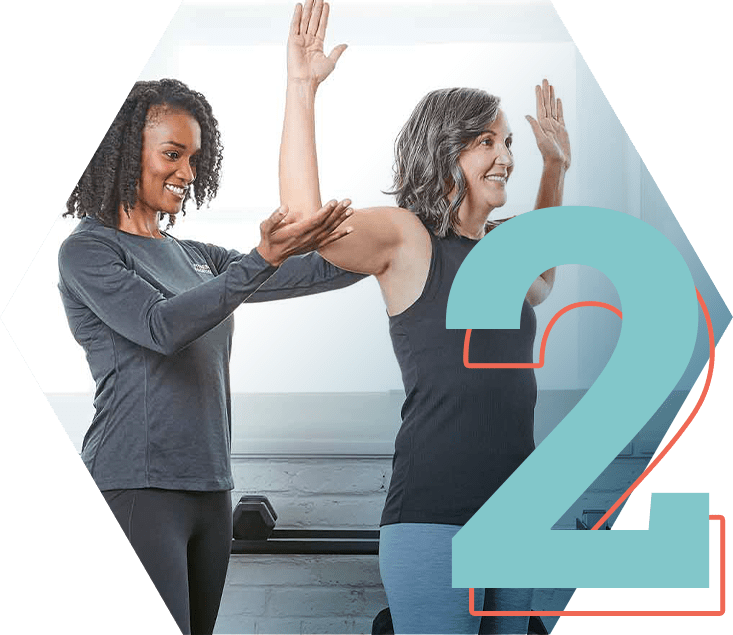 full body assessment
A comprehensive fitness assessment to collect baseline metrics that will help us track your progress.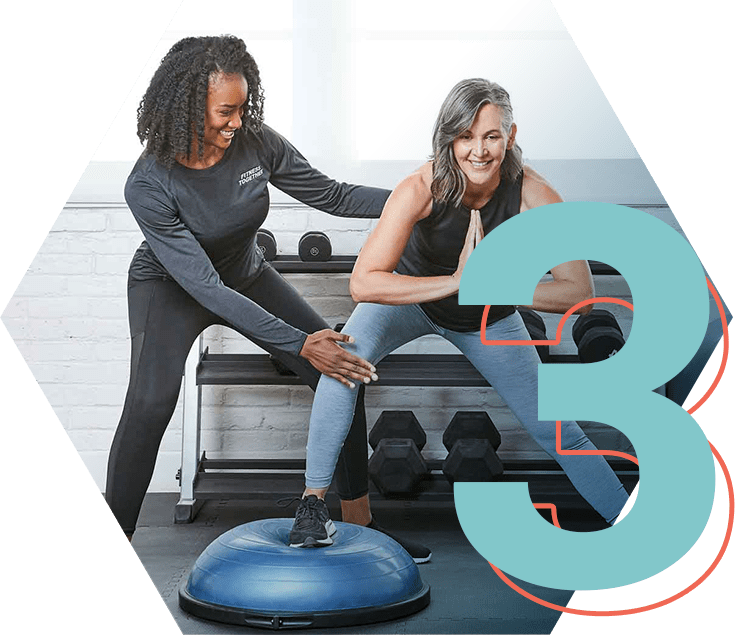 personal training session
Meet your trainer in your private suite (or virtually) for your 1:1 session to begin your completely customized workout program.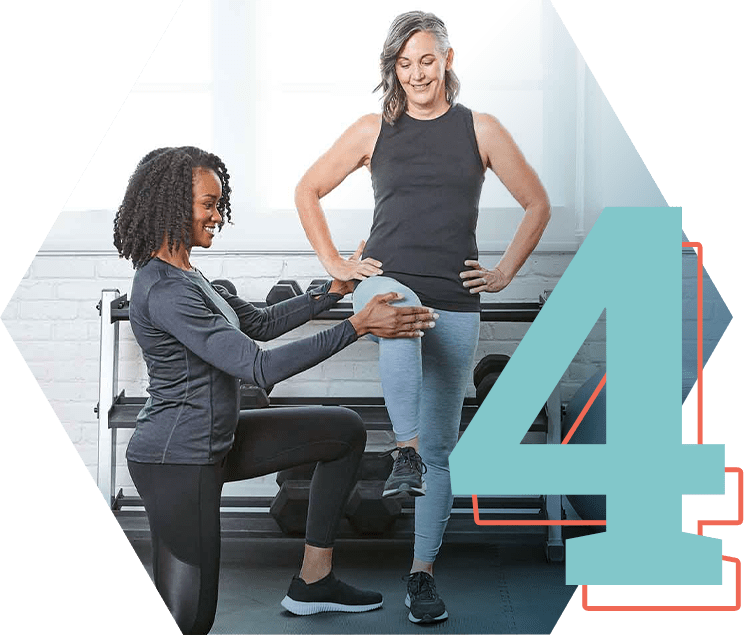 progress checks
A comprehensive assessment every 6 weeks so we can celebrate your progress and set new goals.
WHAT CLIENTS ARE SAYING...
I have been working out at FT for a couple of years and it has made a dramatic difference in my health. I no longer need hip surgery and I am able to dance and hike again.

The high quality training and nutrition advice at Fitness Together has helped me reach my fitness goals. I've lost 20 pounds and have a BMI of 22.8!

I started working out after having breast cancer and heading to osteoporosis. My primary goal with FT was to increase bone density. I now have normal bone density.

Friendly people who care about helping you achieve your goals. FT helped me prepare to hike the Appalachian Trail at age 65. If you have the will, FT will show you the way.