A listing of local business partnerships around the Maple Grove, MN studio.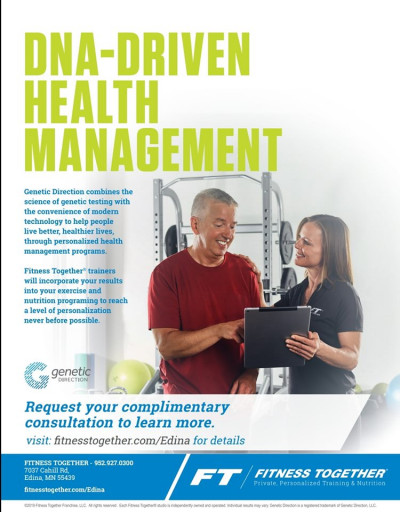 Genetic Direction DNA Testing
Genetic Direction combines the science of genetic testing with the conveniences of modern technology to help people live better, healthier lives, through personalized health management programs. Fitness Together trainers will incorporate your results into your exercise and nutrition programming to reach a level of personalization never before possible.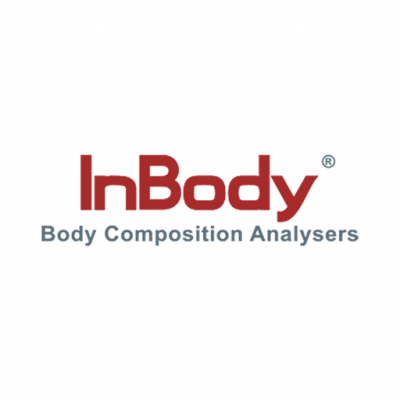 InBody 570 Body Composition Analyzer
InBody 570 body composition analyzers break down your weight and displays your body composition data on an organized, easy-to-understand result sheet. The results help you understand where your fat, muscle, and body levels are at and act as a guide to help you achieve your goals: whether that is shedding a few unwanted pounds or a complete body transformation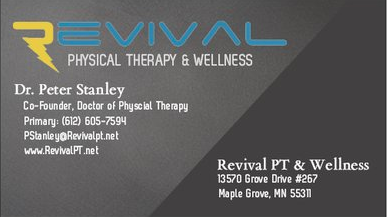 Revival Physical Therapy and Wellness
Our wellness center helps active adults in Minneapolis to get back to the activities they love without disrupting their busy schedules We offer pain management, recovery, and physical therapy services in Minneapolis for the active person.

Polar OH1
Any Sport. Any Time. Pair it with your favorite app, your Polar training device or broadcast your heart rate data in a group environment. Store up to 200 hours of training data Don't hesitate to use it in the pool! Enjoy 12 hours of operating time on its rechargeable battery. 10 meters / 30+ feet Key Selling Points: Flexible Built-in Memory Suitable for Swimming Rechargeable Battery Transmission Range Providing versatility, comfort and simplicity, the Polar OH1 is an optical heart rate sensor worn on the arm. Whether running, riding, or rocking a workout at the gym, this heart rate monitor accurately and consistently captures heart rate using Polar's proprietary heart rate algorithm and 6-LED solution.

Kristina Swanson RDN, LDN
Kristina Swanson, RDN, LDN is a Hy-Vee registered dietitian specializing in general wellness, weight management, sports nutrition, heart health and general wellness. Kristina believes in a food first approach to health and that all foods fit in a balanced lifestyle. Kristina will help you find an individualized approach to reaching your health and wellness goals. If you are interested, please contact Kristina Swanson at kristinaswanson@hy-vee.com or call 515-695-3789.