Pound for Pound
Oct 31, 2013
Lifting weights has long been left to those looking to bulk up, but many fitness experts have advocated light lifting for weight loss for years. High-rep, low-weight lifting is an excellent tool for trimming and toning those problem areas that cardio can't always help. If weights aren't a part of your regular routine, check out these easy tips for adding a little resistance to your workout.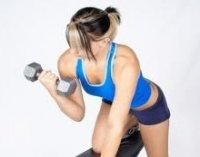 Mix and match.
If your trip to the gym usually includes a long stint on the treadmill, grab a pair of 3-5 lb weights, and keep your arms moving throughout. Try a light trot coupled with slow shoulder shrugs or rear lat dips. Keep the weights in your hands as long as possible, rather than setting a specific goal.
Rep to Weight Ratio. Dive right in to a weight routine by adding a few sets of dedicated lifting to your workouts. Keep your weight-load low, but not so low that you don't feel challenged. If you plan to complete 15 reps, but could easily go longer, add a little more weight. Pushing yourself will not only burn more calories, but it can help you replace fat with long, lean muscle mass.
There is any number of ways to add weight lifting to your gym routine. Ask your Fitness Together personal trainer for a few suggestions on how pushing pounds can help you shed pounds.