Our Studio Location
PERSONAL TRAINING STUDIO
Fitness TogetherArlington
37 Broadway
Arlington, MA 02474
p. (781) 316-8500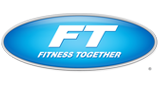 $99 to $199 View Map
HOURS OF OPERATION
Mon - Thu 6:00 AM - 9:00 PM
Fri 6:00 AM - 4:00 PM
Sat 7:00 AM - 2:00 PM
Sun Closed

By appointment only.
Our Owners
Molly Cliggott and Paul Kostopoulos
Owners
Paul has been a personal trainer for over five years. He has always been athletic and enjoys playing sports such as hockey, basketball, baseball, softball, and boxing. His own fitness has always been very important to him and he loves being able to help other people with their own.
Paul grew up in West Roxbury, MA.
Molly has always had a passion for anything creative. She loves being able to use her creativity around the studio as well as for marketing and PR campaigns. Molly also has a passion for volunteering, particularly with animal rescue charities. She helps coordinate the annual Boston Walk for Farm Animals for Farm Sanctuary! Molly grew up in Medford, MA.
Molly and Paul met while working at another Fitness Together studio and were married in July 2015. It's always been a dream of theirs to open their own Fitness Together and they couldn't be more excited to be at FT Arlington! Molly and Paul live in Medford with their three rescue dogs: Penelope, Kevin, and Bonny. In their free time they like to workout, hike, go to the beach in Maine, and travel.

"Dreams don't work unless you do!"
CLICK HERE TO GET YOUR FREE PERSONALIZED PROGRAM PREVIEW™